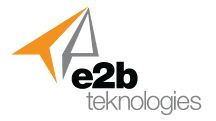 Our anytime apps product line gives manufacturing, distribution and service companies the opportunity to take advantage of many benefits cloud computing has to offer through well-designed and easy-to-use applications built by trusted Sage Partners
Chardon, Ohio (PRWEB) July 24, 2014
Today, e2b teknologies, a Sage Software reseller and Sage Gold development partner, announced that the company will exhibit their e2b anytime apps product line next week in booth #729 at Sage Summit 2014. The annual conference for Sage customers and partners will be held July 28-31, 2014 at the Mandalay Bay in Las Vegas, Nevada.
e2b teknologies will exhibit products including Anytime Collect, accounts receivable management software; Anytime 500, manufacturing and distribution add-ons for Sage 500 ERP; Anytime Supply Chain, integrated supply chain management software; and Anytime Commerce, an integrated B2B ecommerce storefront. Solutions from the anytime apps product line were designed with seamless integration to Sage ERP systems to help companies in the distribution, manufacturing, and service industries enhance and extend their Sage ERP systems for optimized operations. Additional product information and representatives from e2b teknologies will be available at booth #729 to answer any question regarding the products listed above.
"As long-time Sage partners and member of the Sage community, we have an intimate knowledge of Sage ERP systems; but more importantly, we know Sage users and their needs," said Lynne Henslee, President of e2b teknologies. "Our anytime apps product line gives manufacturing, distribution and service companies the opportunity to take advantage of many benefits cloud computing has to offer through well-designed and easy-to-use applications built by trusted Sage Partners who understand their specific business and operational needs. We are excited to attend Sage Summit and show the community how these applications can help them become more effective and efficient in everything they do; anytime, anywhere."
In 2013, e2b teknologies earned recognition as a Sage Gold Development Partner of the Year. The receipt of this accolade was based on the company's ability to successfully deliver solutions that best fit customer needs, their reputation for a high level of customer satisfaction, and the significant impact e2b teknologies made in contributing to Sage customer retention. Other recent accolades awarded for the company's expertise in ERP implementations, development, and consulting include Accounting Today's VAR 100, Bob Scott's list of top 100 VARs, Bob Scott's VAR stars, Inc Magazines 500/5000 List, The Weatherhead 100, NEO Success, Fast Track 50, and an A+ rating with the BBB of Cleveland.
About e2b teknologies
e2b teknologies (e2btek.com) is a Microsoft Managed Partner providing cloud-based business software applications and business services to progressive businesses worldwide. e2b anytime apps (e2banytime.com) is the publisher of Anytime Supply Chain enterprise-class supply chain management software, Anytime Collect accounts receivable management software, Anytime Commerce B2B ecommerce platform, and related Anytime brand products. e2b enterprise (e2benterprise.com) develops custom cloud-based business applications and resells leading ERP accounting software, CRM, and other enterprise business software applications from leading publishers.