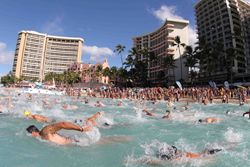 Waikiki Beach, HI (PRWEB) July 24, 2014
Duke's OceanFest, Waikiki's premier ocean sports festival, today announced its schedule of 23 competitions, events and activities (list below) that will be taking place over nine days from Saturday, August 16 through Sunday, August 24.
Duke's OceanFest will offer exciting ocean and beach competitions and special events that Hawaii residents and visitors can enjoy as fans or, in many cases, as participants. The offerings include surfing competitions for kids, teens, amateurs, and pros, stand-up paddling, one-mile ocean swim, lifeguard competition, surfboard waterpolo, wounded warrior canoe regatta, paddle boarding, beach volleyball, beachside movie showing of The Endless Summer, and a luau.
Visit online at http://www.dukesoceanfest.com for event updates and entry forms and travel information for visitors planning a stay in Waikiki during Duke's OceanFest.
Now in its 13th year, Duke's OceanFest is held in tribute to the legendary Duke Kahanamoku and all that he represents to Hawaii's waterman legacy. Fittingly, most events will take place near Duke Kahanamoku's statue at Queen's Surf, Waikiki, and this year's Duke's OceanFest will conclude on August 24, the 124th anniversary of his birthday.
"Duke's OceanFest is dedicated to honoring the memory of Duke Kahanamoku, all that he meant as an athlete and his lasting spirit as Hawaii's Ambassador of Aloha," said Brent Imonen, Event Director for Duke's OceanFest. "Duke Kahanamoku made a profound impact on society in Hawaii and his influence was felt around the world. The nature of events offered at Duke's OceanFest is a recognition of how important he was to people of all ages and abilities."
Renowned as Hawaii's greatest athlete, Kahanamoku (1890-1968) won six Olympic medals, including three gold medals in swimming, from 1912 to 1932, and is recognized as the "Father of International Surfing." Kahanamoku was the world's fastest swimmer in his prime, the single-most influential person in popularizing surfing worldwide, a champion paddler and steersman, and he continues to be an inspiration to watermen and waterwomen today.
Duke's OceanFest supports the Outrigger Duke Kahanamoku Foundation (ODKF), formed in Kahanamoku's honor in 1986. Net proceeds from Duke's OceanFest help fund ODKF's awarding of scholarships and grants to Hawaii residents and nonprofit groups competing in water sports and volleyball. This year ODKF awarded $165,000 in scholarships and grants to 89 recipients, bringing its total support to more than $2.1-million for 1,438 recipients since its formation.
Outrigger Hotels and Resorts, the official hotel company of Duke's OceanFest, is offering special event rates at the OHANA Waikiki East and OHANA Waikiki West hotels starting at $125 per night. For reservations, visit the Duke's OceanFest website or log on at https://resweb.passkey.com/go/DukesOceanfest2014.
Major sponsors of Duke's OceanFest are the Hawaii Tourism Authority, City and County of Honolulu, Outrigger Hotels and Resorts, Kona Brewing Company, Hawaiian Airlines, Duke's Waikiki, AccesSurf, Barefoot Wine & Bubbly, Enterprise Rent-A-Car, Honolulu Star-Advertiser, Hawaiian 105 KINE, Surf News Network, and This Week.
Duke's OceanFest Events Schedule – August 16-24
Unless otherwise noted, the competitions and events are taking place at Queen's Surf, Waikiki, with the Duke's OceanFest surf stand and exhibit booths fronting Duke Kahanamoku's statue. Please visit http://www.dukesoceanfest.com for updated information and entry forms to the competitions and events. The schedule is subject to change.
August 16
Duke Kahanamoku Menehune Surf Fest (6:30 a.m. – 6:30 p.m.)
The future of Hawaii surfing will take to the waves of Waikiki in short board or long board competitions. Boys and girls' surfers will compete in three age divisions: 3-6 (accompanied by an adult), 6-9, and 10-13.
Duke Kahanamoku Sand Volleyball Championships (8:00 a.m. – 6:00 p.m.)
Youth is served! Doubles teams in four age divisions (Under 12, 14, 16, and 18) will compete in this tournament to be champions of Waikiki Beach. Kapi'olani-Queen's Sand Volleyball Courts.
SUP Showdown Autograph Signing and Dry Land Clinic (9:00 a.m. – 4:00 p.m.)
The public is invited to meet some of the elite in Stand-Up Paddling (SUP) and learn techniques about this fun and exciting sport that continues growing in popularity each year.
Duke's OceanFest Expo (9:00 a.m. – 4:00 p.m., Daily)
Next to the Duke's OceanFest surf stand, a series of exhibit booths will be selling products and souvenirs, and offering samplings and demos for the public's enjoyment.
Na Koa Wounded Warrior Canoe Regatta (10:00 a.m. – 4:00 p.m.)
This inspiring canoe regatta at Fort DeRussy Beach will feature a series of exciting races manned by the brave Wounded Warriors that served in America's Armed Forces.
Hawaii Paddleboard Championship (11:00 a.m. – 1:30 p.m.)
"Duke's Race" challenges both the speed and endurance of Hawaii's paddle boarders in this grueling 10-mile sprint that starts at Maunalua Bay in Hawaii Kai and finishes at Queen's Surf.
Duke's OceanFest Opening Ceremony (5:00 p.m. – 6:00 p.m.)
To conclude the first day of Duke's OceanFest, competitors and fans are treated to a festive opening ceremony, highlighted by the always-popular decorating of Duke Kahanamoku's magnificent statue with beautiful fresh flower lei.
August 17-18
Honolua Surf Ultimate SUP Showdown (7:00 a.m. – 6:00 p.m., Both Days)
Many of SUP's elite will race over a marked course through Waikiki's waves before sprinting to the beach to capture the finish line flag. Heat winners advance to the finals showdown.
August 19
Duke Kahanamoku Wahine and Kane Longboard Pro Am (8:00 a.m. – 6:00 p.m.)
Presented by ASP Hawaii, this three-day competition (August 19-21) will feature many of Hawaii's best pro longboard surfers to see who will be crowned as the king and queen of Queen's Surf.
BearsWave.Com Tandem Expression Session (8:00 a.m. – 6:00 p.m.)
This two-day exhibition (August 19-20) is an entertaining demonstration of the strength, skill, balance, and artistry required of successful tandem surfers.
AccesSurf Challenged Athlete Surf Competition (9:00 a.m. – 6:00 p.m.)
This inspirational two-day competition (August 19-20) features athletes overcoming physical challenges, including paralysis and amputation, to compete in a pro-style surfing contest.
August 20
Outrigger Hotels Lifeguard Competition (8:00 a.m. – 11:00 a.m.)
On the beach fronting the Outrigger Waikiki Hotel, teams of Hawaii and international lifeguards will display their extraordinary skills in this challenging competition that combines swimming, paddle boarding, surf rescue, and a relay race.
August 21
ITSA Waikiki Tandem Pro Contest (8:00 a.m. – 6:00 p.m.)
This certified ITSA competition brings together some of the best tandem surfers to showcase their artistry and crown Waikiki's top surfing duet.
Papa He'e Nalu Alaia Surf Contest (8:00 a.m. – 6:00 p.m.)
Competitors will test their strength and endurance using the kind of traditional – and heavy – wooden surfboards that Duke Kahanamoku and his fellow wave riders used in their heyday.
Hawaii Waterman Hall of Fame Awards Dinner (5:30 p.m. – 9:30 p.m.)
Five Hawaii legends – George David "Dad" Center, Mark Cunningham, Anona Napoleon, Randy Rarick, and Sonny Tanabe – are being honored for their lifetime of achievements in advancing Hawaii's waterman legacy. Tickets: http://www.dukefoundation.org.
August 22
Hawaiian Airlines Legends Surf Classic (7:00 a.m. – 5:00 p.m.)
This two-day competition (August 22-23) combines sponsored teams of amateur surfers with the sport's legends in this pro-style surf meet featuring heats, judges, a public address announcer, and exhibit booths. Net proceeds raised benefit ODKF's scholarships and grants program.
Hawaiian Nights and The Endless Summer (5:00 p.m. – 9:00 p.m.)
It's a special Aloha Friday on Waikiki Beach! With toes in the sand and waves lapping nearby, the public can enjoy live Hawaiian music and a showing of the classic surf movie, The Endless Summer.
August 23
Duke's Waikiki Ocean Mile Swim (8:00 – 11:00 a.m.)
This popular open ocean sprint along the Waikiki shoreline attracts hundreds of swimmers from Hawaii as well as the mainland and internationally. Starts in front of Duke's Waikiki restaurant.
Hawaiian 105 KINE Great Hawaiian Luau (5:00 p.m. – 9:00 p.m.)
Good friends, great times, happy memories, and ono food are the hallmarks of Duke's OceanFest's annual beachfront luau staged on the outdoor lawn of the Waikiki Aquarium.
August 24
Duke Kahanamoku Sunrise Birthday Lei Draping (7:00 a.m. – 8:00 a.m.)
The 124th anniversary of Duke Kahanamoku's birthday will be honored with a special morning ceremony that features the decorating of his statue with beautiful fresh flower lei.
Tiki's Grill & Bar Surfboard Waterpolo (8:00 a.m. – 4:00 p.m.)
Six-person teams will play water polo on surfboards, the same way Duke Kahanamoku and his brothers and fellow beach boys did in Waikiki in the 1920s and 1930s. Held at Kapahulu Groin.
Duke Kahanamoku Sand Volleyball Championships (8:00 a.m. – 6:00 p.m.)
Four-person teams of Hawaii's youth beach volleyball players will compete in four age divisions (Under 12, 14, 16, and 18) to be champions of Waikiki. Kapiolani-Queen's Sand Volleyball Courts.
Duke Kahanamoku Junior Surf Fest (9:00 a.m. – 4:00 p.m.)
To help encourage surfing among Hawaii's teens, the final event of Duke's OceanFest will be a special pro-style surf competition for Hawaii up-and-coming surfers.