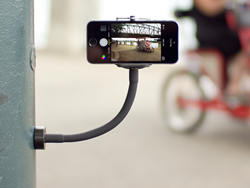 Now you can take all the selfies you want without looking like a narcissist.
Portland, Oregon (PRWEB) July 24, 2014
The GripSnap promises to change the way we take selfies from now on. The patent-pending, flexible monopod features a smartphone clip and powerful neodymium magnet as a base, which allows users to "snap" it to any ferrous metal surface. According to the developer of the GripSnap, Matt Franklin, "Now you don't have to ask strangers to take your picture, or worse yet, have all of your vacation photos feature your arm."
The backlash against selfies has become worldwide news as a spate of ill-advised, tasteless, and even dangerous selfies have garnered furious reactions on social media. But with the GripSnap, a selfie doesn't look like a selfie because you can snap it to anything from a bridge rail to a street sign to a fire hydrant, and using a camera timer app, it's as if someone is taking your picture for you.
After several rounds of prototyping and testing, Mr. Franklin has launched a Kickstarter campaign to raise the necessary capital to bring the GripSnap to market. "After my first product, PostureNOW, landed me on Shark Tank," stated Franklin, "I thought crowd funding would be a great way to publicize this product and get a feel for the demand before going into full-scale production."
The GripSnap comes with a clip that securely holds most smartphones, but the clip can be quickly removed, revealing a 1/4 20 screw that enables it to be used with point-and-shoot and GoPro cameras.
"I travel a lot on business and I like to have a photo or two from my trips, but I hate the narcissistic look of an obvious selfie," said Franklin. "So I set out to create a simple stand that I could bring with me anywhere, and using a simple camera timer app, I'd be able to take a decent picture wherever I might be without looking self-important."
The GripSnap's magnetic base is made of extremely powerful, rare-earth neodymium. It holds tightly to ferrous metal surfaces and features a rubberized base pad that eliminates scratches when attaching the GripSnap to delicate surfaces such as the hood of a car.
The GripSnap is also great for group photos. "How many times have you been out with your friends and one person is always missing from every photo?" asked Franklin. "With the GripSnap, everybody can be in every photo so nobody gets left out."
There are dozens of smartphone apps available that can be used with the GripSnap. There are simple-to-use camera timers and even voice-activated apps that will take your picture when you clap your hands or say "cheese" loud enough.
The GripSnap Kickstarter campaign lasts until September 10th and the funding goal is $16,000. To follow the project, visit http://kck.st/1rujNpe.