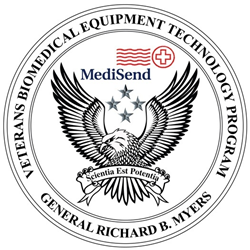 "It is an investment in the future for individuals who have served their country and protected our security both here and abroad," said General Richard B. Myers
Dallas, Texas (PRWEB) July 25, 2014
The Spring 2014 class of the General Richard B. Myers Veterans Program™ graduated on June 28th and all have found employment in the US healthcare industry. MediSend International launched the new program in fall 2013 to offer veterans professional training in the growing field of biomedical technology. Graduate technicians have been employed by Baylor Scott & White Health, DaVita Dialysis, and Southeast Alaska Regional Health Consortium.
"MediSend's elite training will create viable job opportunities and the potential for a lifetime of increased earning power for these men and women. It is an investment in the future for individuals who have served their country and protected our security both here and abroad," said General Richard B. Myers, 15th Chairman of the Joint Chiefs of Staff and namesake of the program.
The BMET course is completed in only five months in a program unique to the MediSend Biomedical Technology School™ and places graduates on a career path in the US healthcare industry. There is no financial obligation on the part of the veteran. The program is currently funded by sponsors including ReserveAid, Strasburger Law Firm, BP, Aon, and American Airlines.
"We plan to help many more veterans achieve a future of financial security in a growing career," says Nick Hallack, MediSend's President and CEO, who takes pride in the sustainability and capacity-building aspects of MediSend's educational programs, "Helping someone find a future that benefits them, their families and their community could not be more rewarding."
For more information on the Veterans Program at MediSend, go to http://www.veteransbiomedicaltraining.org or call Nick Hallack at 214.575.5006, ext.112.