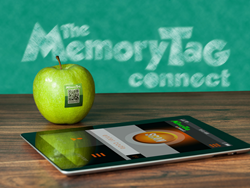 Pledge rewards are limited, so act quickly before the best stuff is gone.
Woodbridge, CA (PRWEB) July 24, 2014
To ensure the success of their ambitious Kickstarter campaign, MemoryTag has utilized a wide range of music and sports celebrities to help get the word out. Backers who support the MemoryTag Connect Kickstarter project have unique and exciting opportunities to obtain numerous signed memorabilia and face-to-face experiences with the Moonshine Bandits, Digital Summer, Nonpoint, also UFC fighters Urijah Faber, TJ Dillashaw, Chad Mendes, Andre Fili, Danny Castillo, Chris Holdsworth, and Brendan Schaub! Of course, there is also a wide range of MemoryTag enhanced products.
The excitement over celebrity pledge rewards is bound to increase the buzz already surrounding MemoryTag's vision for the future. The newly launched Kickstarter campaign speaks to the simple fact that despite how much time people may devote to the digital world, everyone still lives in the real world. Schools, businesses, and organizations are missing innumerable opportunities to engage with people with whom they want to connect. Every physical object that a person sees or touches represents a potential link to so much more.
The MemoryTag Connect app in development will allow students to scan an assignment with their phone to receive further guidance and instruction from the teacher. It will allow companies to build an effective relationship with every customer that scans their product or advertisement. It allows clubs and organizations to collaborate on projects in new and creative ways.
MemoryTag already produces greeting cards and stickers that play the sender's custom videos. In fact, consumers can purchase MemoryTag products on Amazon right now. However, the California-based tech company saw no reason to stop there. MemoryTag Connect integrates advanced functions that provide professionals with the tools necessary to actively engage their target audience.
Imagine scanning a product on the shelf. The app will provide information about the product, play a multimedia demonstration, offer an invitation to join the company's Connect group, display consumer reviews, and present applicable promotional offers that can be organized and tracked from within the app. The user may then decide to comment, share to social media, or manage their relationship with the new group. And that's only the beginning.
Pledge rewards are limited, so act quickly before the best stuff is gone. To participate in the Kickstarter, visit thememorytag.com/connect.
For more info on MemoryTag, visit theMemoryTag.com.