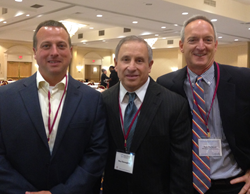 NYSATA sees this connection as a win-win for both groups, knowing the need for concussion awareness and management is glaringly present in NYS and across the country, especially as it relates to sports participation.
Albany, NY (PRWEB) July 24, 2014
NYSATA continued its public awareness outreach initiative by hosting an exhibit booth at the 32nd Annual Brain Injury Association of New York State (BIANYS) Conference in Albany on June 5-6, 2014. NYSATA has teamed up with the BIANYS for the past two years in March with a social media campaign to jointly promote National Athletic Training Month (NATM) and Brain Injury Awareness Month, and NYSATA also independently endorses the Conferences' 2014 Keynote speaker, Ray Ciancaglini of The Second Impact.
NYSATA sees this connection as a win-win for both groups, knowing the need for concussion awareness and management is glaringly present in NYS and across the country, especially as it relates to sports participation. As athletic trainers (ATs) know – and BIANYS emphasizes – concussions, regardless of the cause, are, in fact, traumatic injuries to the brain. This is a point that is too often missed or underestimated when symptoms appear as mild or when coaches and parents are caught up in the excitement of a sporting event.
In addition to support from Ciancaglini during his presentation, NYSATA was represented at the conference by member ATs from a variety of settings - Rick Knizek, ATC, Karen Balter, ATC, Jessica Maloy, ATC, Tom Fashouer, ATC, and Kurt Pfaffenbach, ATC - who manned the informational exhibit booth, networking with medical professionals and others in attendance. They helped answer questions and distribute information regarding concussion management, athletic training, and the legislative bill - S4465 (R-Grisanti) and A6678 (D-Lavine) - to update the practice act for athletic trainers in NYS, which will be reintroduced during the 2015 legislative session. These NYSATA representatives highlighted how we, as ATs – health care providers - can be a good resource in the area of concussions and other sports-safety information and planning.
Athletic Trainers are highly educated and experienced in managing concussions, especially when they are present on-site at an athletic event – from recognizing the signs and symptoms, to monitoring the recovery, to communicating between parents, school officials, and other medical professionals. ATs are also dedicated to staying current on concussion management to provide the best care possible and to serve as a quality resource to all entities that deal with student-athletes and physically active people of all levels.
As part of the regular updates that ATs receive during their annual conferences, both at the national and state levels, on the most current research and best practices regarding concussion management, NYSATA also hosted a public concussion education forum during their 2013 Conference as a service to the community at-large and regularly promotes awareness presentations across NYS. As part of these efforts, NYSATA has endorsed and worked closely with The Second Impact and its founder, Ray Ciancaglini, a former boxer turned concussion awareness advocate who suffers from chronic post-concussive brain disease.
Since forging a mutual relationship with him, Ciancaglini takes any opportunity he has to also help promote NYSATA as a public advocate for sports health and safety and ATs as qualified athletic health care professionals while telling his personal story to demonstrate the seriousness of sport-related concussions. In addition to speaking to a sold out crowd of roughly 300 people at the BIANYS conference keynote presentation dinner, Ciancaglini received the BIANYS Public Policy Award and was able to help raise additional money for concussion-awareness programs for BIANYS by taking photos with attendees and signing red boxing gloves – his signature souvenir.
Based on his experience at the BIANYS Conference, Ciancaglini stated, "I was honored to be the keynote speaker and humbled to receive the Public Policy Award. I am also grateful to a most generous audience as a large amount of revenue was generated to benefit the BIANYS's many worthy programs." Regarding NYSATA and their presence at the conference, he continued, "As usual, I was also pleased to reiterate my public support and praise for the important role of ATs and NYSATA in concussion management during my presentation and press interviews, and it was great to see NYSATA represented at the conference."
The Brain Injury Association of NYS joins a list of other organizations that NYSATA and other AT associations have partnered with for the awareness, prevention, and management of various life-threatening injuries, illnesses, and conditions in sport and recreation, including: the previously mentioned The Second Impact (concussions), the Sports Legacy Institute (SLI) (concussions/brain injury from sport), the Korey Stringer Institute (KSI) – (sudden death in sport), and Parent Heart Watch (sudden cardiac emergencies/death).
NYSATA, founded in 1976 and incorporated in 1989, stands to advance, encourage and improve the profession of athletic training (AT) by developing the common interests of its membership for the purpose of enhancing the quality of healthcare for the physically active in NYS. Athletic training is practiced by certified athletic trainers (ATs), who have expertise in the assessment, emergency management, rehabilitation and prevention of acute and chronic sport-related injuries, illnesses and conditions, including concussions. Comprised of over 1,200 certified and practicing athletic trainers, NYSATA is the state-wide affiliate of the regional EATA and District Two of the NATA.