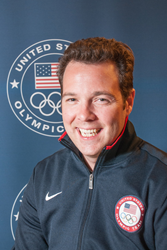 Within [the Olympic medical] system, all of the medical professionals work together to meet the needs of the athlete... a respectful collaboration based on area of expertise and specialization.
Lake Placid, NY (PRWEB) July 29, 2014
In addition to being home to a plethora of professional sports teams and a number of international athletes, New York State boasts one of the three main Olympic Training Centers (OTC) in the U.S. – and the headquarters for winter sports – in Lake Placid. Head Athletic Trainer, Peter Toohey, who has been at the Lake Placid OTC for fourteen years, served as the Games Medical Director for the mountain cluster of athletes in Sochi for the 2014 Olympic Winter Games. This group included over 130 of the 230 athletes in Sochi on the U.S. Olympic Team competing in biathlon, bobsled, luge, skeleton, skiing and snowboarding events.
In addition to the day-to-day health care of athletes on-site in Lake Placid, Toohey is tasked with medical planning for these athletes while at the Olympic Games. Preparations occur over the four years preceding the Games and can be increasingly complex depending on the site where the Games are being held. Most international sites provide not only a language and culture barrier, but can include significant differences in health care systems, such as the availability and quality of specialty medicine and imaging, medical licensing regulations, and efficiency of medical records. Additionally, planning often needs to be done for various sites, as processing may be done in another location – even another country – prior to arriving at the Olympic Village, and various events within the same Games may be spread out over a few - to a few hundred - miles.
For the Sochi Games, the sports medicine model was a multidisciplinary, collaborative approach with various medical and healthcare professionals working together to treat each athlete addressing not only the physical, but also the psychological aspects of injury and performance. The U.S. delegation featured 65 medical providers, including 22 medical doctors (MDs), 17 athletic trainers (ATs), 14 physical therapists (PTs), six chiropractors (DCs), five massage therapists (MTs), and one physician assistant (PA). Within this system, all of the medical professionals work together, using their skill-set when the need arises and allowing the needs of the patient drive which medical provider takes the lead at any given time. There is not a 'hierarchy' as typically defined or followed in the medical system in the U.S. but rather a collaboration based on area of expertise and specialization. For this reason, staff and volunteer providers are chosen with regard to specialization, as well as personality – must be a 'team player' – and the ability to be flexible and accommodate quickly to difficult situations and changes is the norm in medical care.
This is a model that many strive for in athletic health care at all levels, where athletic trainers work closely and collaboratively with their supervising team physicians and other members of their sports medicine team to provide quality and comprehensive care for their student-athletes.
Following the Olympic Games, Toohey then helped transition various medical planning aspects into the Paralympic Games, which were also held in Sochi nearly two weeks after the Olympic Games had ended. An entirely new staff – including four ATs, six MDs, three PTs, one DC, and three MTs – traveled with and provided care for the 80 U.S. Paralympic athletes during competition.
Toohey has a lengthy background with the USOC, completing a post-Master's fellowship in Lake Placid for a year and then a five year stint as the Head Athletic Trainer at the Olympic Education Center in Marquette, MI before returning to Lake Placid to manage the Sports Medicine Clinic. Although he has spent his career with the USOC, working at three Olympic Games and two Paralympic Games – medical director a total of three times - he also noted, "We are always open for volunteers to come in to the Olympic Training Centers and work with our staff and the athletes. Interested athletic trainers and other medical professionals can apply at TeamUSA.org.
Although athletic trainers come from an array of backgrounds and work settings, NYSATA was proud to take the opportunity to highlight this unique and global role that ATs fill, especially with the example of one of its own members. NYS alone has a diverse population that participates in a wide variety of athletic activity – from sport to dance to recreational fitness - and all of these individuals can benefit from the educational background, skill set, and sports safety planning skills that athletic trainers possess and the quality athletic health care they can provide.
NYSATA, founded in 1976 and incorporated in 1989, stands to advance, encourage and improve the profession of athletic training (AT) by developing the common interests of its membership for the purpose of enhancing the quality of healthcare for the physically active in NYS. Athletic training is practiced by certified athletic trainers, who have expertise in the assessment, emergency management, rehabilitation and prevention of acute and chronic sport-related injuries, illnesses and conditions, including concussions. Comprised of over 1,200 certified and practicing athletic trainers, NYSATA is the state-wide affiliate of the regional Eastern Athletic Trainers' Association (EATA) and District Two of the National Athletic Trainers' Association (NATA).