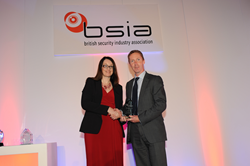 PHS invests heavily in the training of our team members so to be able to offer an in-house qualification in IDO is fantastic.
(PRWEB UK) 24 July 2014
The Chairman's award, which showcases industry excellence, was presented to PHS for its contribution towards improving standards of training within the security sector for the benefit of both security companies and their customers. PHS is the first organisation in the UK to be granted accreditation from Skills for Security for its in-house developed Information Destruction Operations (IDO) training course. Recently, the Group has opened the PHS Academy, a training and development centre in Gloucester which houses the delivery of this course.
The BSIA is the trade association for the private security industry in the UK, representing members who are responsible for more than 70% of the of UK security products and services including the manufacture, distribution and installation of electronic and physical security equipment and the provision of security guarding and consultancy services.
Anthony Pearlgood, Managing Director for PHS Data Solutions said:
"We are thrilled to have been awarded for our contribution to training in the security field. We've worked hard to ensure that our operatives and indeed all our staff provide a highly secure service for our customers at all times. Customer service is our priority, and this award demonstrates our ongoing commitment."
Chris Lodge, Training and Development Director at PHS Group said:
"PHS invests heavily in the training of our team members so to be able to offer an in-house qualification in IDO is fantastic. It's a real step forward in our training and development evolution and a testament to our passion and dedication for developing our staff."
Speaking about the awards, Pauline Norstrom, newly-elected Chairman of the British Security Industry Association, said: "It is a great pleasure that one of my first tasks as Chairman of the BSIA is to recognise and reward the significant and lasting contributions made by these dedicated individuals and companies. Their commitment to improving the reputation and quality of our industry is admirable, and I shall look forward to building further on these achievements in my next two years as BSIA Chairman."