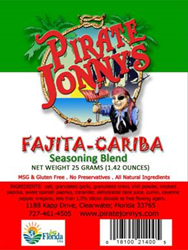 Fajita Cariba, an all purpose MSG and Gluten free seasoning blend, for all meats and vegetables and even breakfast.
Clearwater, FL (PRWEB) July 28, 2014
Pirate Jonny's Award Winning flavors of the Caribbean continues its expansion of rubs, seasonings & sauces to include a new all purpose Fajita Seasoning. A superior MSG free-Gluten free, low sodium all round grilling and cooking seasoning.
Pirate Jonny's started in 2011 with only 2 flavors of which 1 was submitted to the National BBQ Association for an award, the Caribbean rub. Since that time, the line of Pirate Jonny's has won many awards to include the Scovie's, more awards from the National BBQ Association, local Florida accolades, the Hot Pepper Awards and has increased to 4 rubs, 7 seasonings, 4 barbeque sauces and its new Jerk Sauce, Syrena's Seduction. Syrena's Seduction has just recently won an award for best in the Caribbean category from the Louisiana Hot Sauce Festival and also placed for their award winning artwork.
The new "Fajita Cariba" is great for Fajita's but can also be used as an all purpose seasoning, for all meats and vegetables and even breakfast.. Its ingredients include smoked paprika and coriander to give you a well balanced citrus, slightly smokey seasoning.
Pirate Jonny's emphasizes flavor and "ease of cooking" as all products are MSG, Gluten free and low sodium blends which reduce the amount of preparation needed for tasty healthy meals. You can find all Pirate Jonny's Award Winning products on http://www.piratejonnys.com.