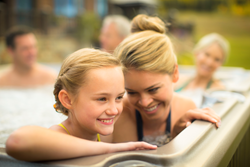 Making the best choice will safe guard your family!
(PRWEB UK) 24 July 2014
Hot tubs and Swim Spas are an oasis of enjoyment and relaxation with many therapeutic benefits which will give users many years of excellent service when looked after properly. As with many products, potential risks can arise, particularly if the product is misused or neglected, but there are a number of simple steps that can be taken to ensure your hot tub or swim spa is kept safe.
Making the best choice!
From the offset, making the right choices, from what type of Hot Tub, or Swim Spa will suit your needs, to where to buy, can provide you with the perfect product to enjoy with your family and friends. Sadly there are occasions when customers have bought products from companies that are not BISHTA members, thinking they are getting a really great bargain, only to be let down by poor quality products, or a shoddy after sales service. In the longer term, this can end up costing even more money and can potentially put you and your family at risk if your product is not fit for purpose, is installed incorrectly, or you are not advised on how to safely care for and maintain your new Hot Tub, or Spa.
Being aware of the right questions to ask from the beginning, can provide you with a fantastic product which will improve your health and lifestyle, and can be easily maintained with professional installation and advice.
Buy with Confidence
As the UK trade association, BISHTA works tirelessly to ensure that it provides a service which consumers can rely on to put them in contact with reputable companies who provide superior service governed by industry standards based on legislation and codes of practice together with a Code of Ethics. Buying from a BISHTA member, either from their showroom, on their internet site or from an exhibition, should ensure that you get the best advice and find the item that you wish to purchase that suits your needs and budget requirements. BISHTA members are suitably trained and experienced to provide you with knowledge about the products and most importantly the water treatment regime that is needed to safely maintain your Spa or Hot Tub. BISHTA members are expected to provide best practice and continual improvement, to give you peace of mind.
Reducing the risk of hazards
BISHTA promotes safe spa standards, and have no recorded incidents of Hot Tubs or Swim Spas, which have been built to industry standards, and are properly installed, serviced and maintained, being the cause of fire, electrical or other harm. If a product's quality is inferior, this has the potential to be hazardous and therefore BISHTA recommends that consumers buy from a reputable source. If the product complies with the relevant European standards for electrical safety and also has CE certification, there is unlikely to be an issue. Peace of mind can come from purchasing from a BISHTA member, who will be willing to demonstrate their products and offer reassurance of their safety standards. Their service will include visiting your home in advance of delivery to create an installation plan including electrical supply via an RCD circuit breaker and providing the correct advice on how to safely maintain your spa.
Benefits of Hot Tub and Swim Spa Usage
A well planned and installed Hot Tub, or Swim Spa will give years of pleasure to you, your family and friends and provides great health and enjoyment. Being the owner of a Hot Tub, or Swim Spa promises a wealth of health benefits, as well as a treat for you and your family. Hot Tubs and Swim Spas have been used as a source of relaxation in holiday parks and fitness centres all over the world to provide well-being, and by owning your own; this can give you more regular access to these benefits.
To take the first step to bring health and well-being to your life! Visit: http://www.bishta.co.uk.
The British Swimming Pool Federation (BSPF) is the trade organisation who brings together in one organisation the UK bodies representing contractors, manufacturers, distributors and retailers of swimming pools, spas, hot tubs, swim spas, saunas, steam rooms and associated equipment. Comprised of the Swimming Pool and Allied Trades Association (SPATA) and the British and Irish Spa and Hot Tub Association (BISHTA), the trade bodies, working for trade members and the consumer by setting and publishing technical standards, providing technical advice and mediation services and promoting safe and healthy use of swimming pool and spa water.