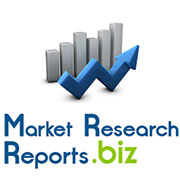 Printed And Flexible Sensors 2014-2024: Technologies, Players, Forecasts
Albany, NY (PRWEB) July 24, 2014
Printed and flexible sensors are playing an increasingly important role in printed electronics. The biggest market is currently glucose sensors used by diabetics. However, other types of printed sensors are emerging. IDTechEx forecasts the market for printed sensors will have increased by more than $1 billion by 2020.
Sensors in general have a much simpler structure than displays or logic circuits. The technology barrier against commercialisation is therefore less steep compared to many other printed electronics applications. In fact, some types of sensors have always been printed. And there are many types of sensors, therefore many addressable markets.
View Full Report With Complete TOC at http://www.marketresearchreports.biz/analysis/175715.
This report covers the following categories of printed and flexible sensors:
Biosensors
Capacitive sensors (not including touchscreens)
Piezoresistive & Piezoelectric (pressure, force, or strain) sensors
Photoelectric (photodetectors, hybrid CMOS image sensors and digital X-ray sensors)
Temperature sensors
Gas sensors
Opportunities in established and emerging markets
Printed and flexible sensors already represent a value of $6.3 billion in 2013. The biggest market is currently biosensors, where disposable glucose test strips are used to improve the lives of diabetics. However, other types of printed sensors are emerging, taking advantage of the latest materials.
Download Full Report With Complete TOC at http://www.marketresearchreports.biz/sample/sample/175715
IDTechEx expects new hybrid CMOS image sensors to quickly become the second largest market, with organic or quantum dot semiconductors replacing silicon as the photosensitive material in several applications.
Piezoresistive sensing is already an established market. Growth in piezoresistive sensors will however get additional momentum, explained by a combination of favourable trends. While the two biggest market segments are currently in Consumer Electronics and Healthcare, the next five years will see Automotive take a larger share, ultimately outgrowing Healthcare. In this scenario, IDTechEx expects the piezoresistive sensor market to triple by 2018, corresponding to 23% CAGR.
Other types of printed and flexible sensors such as photodetectors, temperature sensors or gas sensors are only emerging but they promise better performances, new form factors and ease of customisation. Now is the right time to enter the market and some companies are already positioned to reap the benefits.
View All Reports in ICT at http://www.marketresearchreports.biz/category/96
The complete picture
Save months of research by quickly learning who the key players are in printed and flexible sensors. Get the complete picture on the various technologies, their applications and the market sizes.
The report includes technology reviews and market forecasts until 2024 for the following printed sensors:
Biosensors
Capacitive sensors (not including touchscreens)
Piezoresistive sensors
Piezoelectric sensors
Photodetector
Hybrid CMOS sensors
Digital X-ray sensors
Temperature sensors
Gas sensors
Sensors that are processed at high temperature (ceramic pressure sensors, as well as some piezoelectric, temperature and gas sensors) are described in the report but not included in the forecast figures since they cannot be considered part of printed electronics.
Related Reports -
Biosensors Market - (Resonant Mirror, Electrochemical, Surface Plasmon Resonance, Light Addressable Potentiometric) - Global Industry Analysis, Market Size, Share, Trends, Analysis, Growth And Forecast, 2013 - 2019
Biosensors are the devices used for the detection of analyte and combines physiological detector with biological components. There are certain types of biosensors that include resonant mirror, electrochemical, surface plasmon resonance and light addressable potentiometric.The biosensors market is expected to witness the growth owning to wide range of applications in cardiac monitoring, diabetes monitoring, agriculture, drug recovery, environmental practices and others.
Biosensors market is segmented into three aspects include- by applications, technologies and end use industries. The biosensor technology market include optical, electrochemical, thermistors and piezoelectric. The application segment covers wide range of biosensors applications such as medical testing, environmental, food toxicity, agriculture, industrial and others. The end user chapter include biosensors devices practiced by research laboratories, security and bio defense, home care diagnostic and others.
View Full Report at http://www.marketresearchreports.biz/analysis/194612
Markets For Sensors For The Smart Grid: 2014-2021
This report includes an analysis of how various players up and down the smart grid supply chain – firms such as electrical equipment manufacturers, electrical companies and the sensor makers themselves - will be able to make money out of smart grid sensor business. In addition, as with previous studies we have included a forecast of the grid sensor market with breakouts by applications, types of sensor, etc. We also identify the key firms in this market and analyze their strategies.
In the near-term future we expect to see these sensors start to talk to other devices, not just in the grid, but also in lighting and HVAC systems as well as in a new generation of building automation systems. The leap in functionality that the next generation of grid sensors will provide will both help to grow the market and lead to new requirements for such sensors.
View Full Report With Complete TOC at http://www.marketresearchreports.biz/analysis/207128
About Us
Marketresearchreports.biz is the most comprehensive collection of market research reports. Marketresearchreports.biz services are especially designed to save time and money of our clients. We are a one stop solution for all your research needs, our main offerings are syndicated research reports, custom research, subscription access and consulting services. We serve all sizes and types of companies spanning across various industries.
Browse Blog - https://www.linkedin.com/today/author/173774513