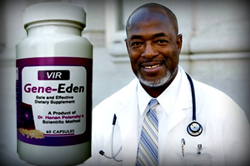 For individuals infected with the latent hepatitis B virus, we recommend Novirin or Gene-Eden-VIR. - Greg Bennett, CBCD
Rochester, NY (PRWEB) July 25, 2014
"Infected with the hepatitis B virus? The CBCD recommends taking Novirin or Gene-Eden-VIR." - Greg Bennett, CBCD
In recognition of NYC Hepatitis B Awareness Week, the Center for the Biology of Chronic Disease (CBCD) would like to congratulate the New York City Council on its progressive strategy for combating the Hepatitis B virus (HBV). However, raising awareness about the virus and its effects on people is only a partial answer to the problem. This is because, as the CDC says on its website, "many people don't know they are infected or may not have symptoms, and therefore never seek the attention of medical or public health officials." (See the CDC, last updated June 9, 2009) (2) HBV Infected individuals need a treatment that reduces or eliminates the latent virus from the body. The CBCD therefore recommends Novirin or Gene-Eden-VIR, which are two natural HBV remedies designed to help the immune system lower the numbers of latent HBV.
Click to learn about HBV symptoms.
The formula of Novirin and Gene-Eden-VIR was tested by Hanan Polansky and Edan Itzkovitz from the CBCD in two clinical studies that followed FDA guidelines. The studies showed that the Novirin and Gene-Eden-VIR formula is effective against the HBV, and other viruses. The clinical studies were published in the peer reviewed, medical journal Pharmacology & Pharmacy, the first, in a special edition on Advances in Antiviral Drugs. Study authors wrote that, "individuals infected with the (hepatitis B and other viruses)…reported a safe decrease in their symptoms following treatment with Gene-Eden-VIR." (3) The study authors also wrote that, "We observed a statistically significant decrease in the severity, duration, and frequency of symptoms." (3)
Both products can be ordered online on the Novirin and Gene-Eden-VIR websites.
Gene-Eden-VIR and Novirin are natural antiviral dietary supplements. Their formula contains five natural ingredients: Selenium, Camellia Sinesis Extract, Quercetin, Cinnamomum Extract, and Licorice Extract. The first ingredient is a trace element, and the other four are plant extracts. Each ingredient and its dose was chosen through a scientific approach. Scientists at polyDNA, the company that invented and patented the formula, scanned thousands of scientific and medical papers published in various medical and scientific journals, and identified the safest and most effective natural ingredients against latent viruses. To date, Gene-Eden-VIR and Novirin are the only natural antiviral products on the market with published clinical studies that support their claims.
Although everyone should become more aware, Asian Americans, in particular, are urged to learn more about hepatitis B infection and the available remedies. As Dr. Vivian Huang noted, "In the United States, one in 12 Asian Americans is infected with chronic hepatitis B, which can severely damage the liver for 20 to 30 years without any symptoms. If left undetected and untreated, one in 4 people with hepatitis B can find themselves with cirrhosis or end-stage liver cancer." (1)
In many cases, there are no symptoms to let an individual know that he or she is infected. However, when symptoms do occur, they "appear 90 days (or 3 months) after exposure, but they can appear any time between 6 weeks and 6 months after exposure." (2) They can include "fever, fatigue, loss of appetite, nausea, vomiting, abdominal pain, dark urine, clay-colored bowel movements, joint pain, and jaundice (yellow color in the skin or the eyes)." (2)
"We support the efforts of leaders to increase the health of their communities. Learning about the hepatitis B virus and its damaging effects is important in contributing to prevention efforts, and learning about available treatments is vital for those who are already infected. For these individuals, we recommend Novirin or Gene-Eden-VIR." - Greg Bennett, CBCD
All orders of Gene-Eden-VIR are completely confidential, and no information is shared or sold to any third party. Privacy is assured.
Click to learn more about Novirin and the hepatitis B virus, or Gene-Eden-VIR and the hepatitis B virus.
References:
(1) Voicesofny.org - Hepatitis B Awareness Week Kicks Off in NYC. Published July 22, 2014.
(2) CDC - Hepatitis B Information for the Public - Hepatitis B FAQs for the Public. June 9, 2009.
(3) Gene-Eden-VIR is Antiviral: Results of a Post marketing clinical study. Published in September 2013.