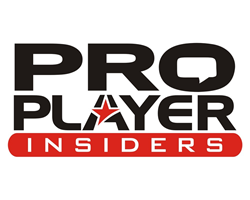 'AART will be a destination for all things art and sport,' said Mahler. 'This further highlights our commitment to showing who athletes are outside of the game and making a positive impact by sharing their stories.'
Hollywood, CA (PRWEB) July 25, 2014
On the heels of the ESPY Awards, where several of the leading athletes gathered to be honored for excellence in sports, Pro Player Insiders teamed up with 3P Media Partners to launch the Athletes for Art Renaissance Tour ("AART"). Leading athletes lent their support and artistic influence and showcased their original paintings at the W Hollywood, located in Hollywood, California.
AART's mission is to break the myth that a person is either an athlete or an artist by showcasing artwork from all athletes in a variety of mediums. The event highlighted the creations of Vernon Davis, Robert McClain, Not Your Muse, Ramon Buchanan, and Alana Heard.
Melissa Mahler, Founder and Editor-In-Chief of Pro Player Insiders is excited about showcasing athlete's art and helping to break the myth that athletes are one dimensional.
"AART highlights our commitment to showing who athletes are outside of the game and making a positive impact by sharing their stories," said Mahler. "We know that AART will be a destination for all things art and sport."
"It's a great opportunity to share the paintings from some of the leading athletes," said Jumoke Mendez Founder of 3P Media Partners. "We hope that we can raise awareness in the community for these and other athlete-artists."
During the event, McClain, Not Your Muse, Buchanan and Heard showed their unique style by each painting a letter of the AART logo. The audience was treated to this live performance and by the end of the night the original painting was complete.
Kandy Magazine's 2014 Krush of the Year, Jessica Hall, hosted the event and was joined by many of the Kandy girls and Editor-in-Chief Ron Kucher as the magazine celebrated its Sweet 60.
Among the athletes and celebrities in attendance included: Antonio Cromaterie of the Arizona Cardinals, Chris Paul of the Los Angeles Clippers, Snowboarder Jamie Anderson, Cliff Avery of the Seattle Seahawks, Doug Christie, a former NBA star, Marcus Cromartie of the San Diego Chargers, Austin Pettis of the St. Louis Rams, Mariano Mendoza Heavy Weight Boxer, Robert McClain of the Atlanta Falcons, Tyree Washington, Olympic Gold medalist, Patrick Chung of the New England Patriots, Terrell Owens former NFL Star, Prince Amukamara of the NY Giants, former Super Bowl Champ Darrel Reid, Julius Thomas and Duke Iheancho of the Denver Broncos, Lindsey Berg Volleyball Olympian, Chris Carter of the Pittsburgh Steelers, former Carolina Panther DeSaun Foster, Billy Davis, two-time Super Bowl Champ, former Oakland Raider Rashawn Jackson, actor Brett Stimley from Transformers, Porsha Coleman from Hollywood Today, actor Roger Cross, Caya Hefner Model, Graham Bunn Reality TV Star, Bob Guiney from The Today Show and The Bachelor and Music artist Christina Millian.
This was the first event of our four-city "Athletes for Art Renaissance Tour." The tour has also plans to visit New York City, Miami & Europe. AART's diverse list of professional athletes, entertainers and celebrities will be immersed into an art experience that will leave a lasting social impact on art enthusiasts and philanthropists alike.
ABOUT PRO PLAYERS INSIDERS:
ProPlayerInsiders.com brings a unique, behind the scenes look at the lives and lifestyles of athletes. We offer a peek into player's personal lives and what matters to them, on and off the football field, as well as a look at the latest health and style trends, reviews of the newest technology, faith, family, music and much more. We work closely with NFL Players, as an official licensed partner, which gives us access directly to the players and special events. http://proplayerinsiders.com
ABOUT ATHLETES FOR ARTISTS RENAISSANCE TOUR:
Athletes and artists animate and empower our communities. AART breaks the myth that you are either an athlete or an artist and brings together these two areas of influence by showcasing artwork from all athletes in a variety of mediums. Through artistic expression, AART promotes relationship building, stimulates imaginations, acknowledges different viewpoints and empowers athletes to be global ambassadors for change. http://www.athletes4art.com.
ABOUT 3P MEDIA PARTNERS
3P Media Partners is a multimedia agency built to integrate entertainment, sports and lifestyle. We specialize in brand management, marketing, executive event planning, public relations, and corporate sponsorship. Our team has over a decade of experience in product management, marketing, event planning, brand development and endorsements. http://www.3pmediapartners.com
ABOUT KANDY MAGAZINE:
Kandy Magazine, the fastest growing men's lifestyle magazine app around the world, delivers month after month columns that today's man demand. Get the freshest outlook on modern style and culture. Kandy offers a current perspective on the world around you with in-depth articles about gadgets, tech, nightlife, cars, music, movies, video games, athletes and celebrity interviews, and sports coverage on football, soccer, hockey, baseball, basketball and MMA.