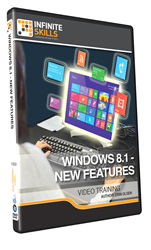 Learn the new features in Windows 8.1 at your own speed.
(PRWEB) July 24, 2014
Software training firm Infinite Skills Inc. this week introduced its "Windows 8.1 - New Features Tutorial," a concise set of lessons designed to familiarize Windows 8.1 users with enhanced capabilities available following changes to the operating system in two recent updates.
Windows 8.1 was released in October 2013, and soon followed with another significant release in April 2014. Collectively, these two updates have increased security, customization, ease of use, and app functionality across the system, as well as enhanced synchronicity with Windows Phone and the cloud.
With Infinite Skills' Windows 8.1 - New Features Tutorial, users with a basic understanding of Windows 8 can take full advantage of these new features and capabilities to enhance their Windows experience after only a few concise lessons.
Windows 8.1 - New Features Video Training - Streaming
Course author Erin Olsen's training style is oriented toward the practical needs of everyday Windows users. She is a Microsoft Certified Instructor and holds a master's degree in education with emphasis on instructional design and technology. She has been a computer trainer since 1994 with Windows 3.1. Her training style is informed by her life experience with starting and running her own training business, PC Keys Technology Solutions Inc., for which she has twice been listed as a finalist for entrepreneur of the year by the Idaho Business Review.
Olsen begins by exploring the new features for customizing the basic Windows 8.1 interface. She covers the start screen, updates to the tile interface, the new search feature, and energy saving options, among other personalization features.
The next chapter explores the capabilities of the "matured" Windows 8.1 apps, including the re-introduction of the Windows Store, working with the title bar, multi-window mode, and the new controllable snap feature. This chapter also covers updates to the major Windows 8.1 apps, including People, Mail, Music, Lifestyle, and Reading List.
After covering the new capabilities for connectivity, including connecting to the workplace with BYOD, creating a personal VPN, and working with the cloud, the course closes with an exploration of security and privacy settings, including the Windows 8.1 child account, improved biometrics, and new safety features for business devices.
"Windows 8.1 is a significant update to the Windows 8 operating system," Olsen says.
"This is a unique series designed as a supplement to the course on Windows 8. We'll investigate a lot of new and enhanced features in 8.1, getting reacquainted with the interface, including all the features that make using and working with Windows easier and more intuitive."
Free demo videos and a full list of course contents can be found on the Windows 8.1 - New Features Tutorial Video training page on the company website: http://www.infiniteskills.com/training/windows-8-1-new-features.html.
Infinite Skills offers its Windows 8.1 - New Features Tutorial either as a DVD or a direct download from the company website at a retail price of $24.95, or as part of its subscription streaming service available at a rate of $25 per month. Though the compatibility of programs varies, all Infinite Skills titles and formats work on both Mac and Windows operating systems, and shipping is available around the globe. Additionally, Infinite Skills tutorials are supported by project files which correspond to examples in the videos.
About Infinite Skills Inc.
A leader in the field of software training, Infinite Skills designs its courses on a task-oriented model, teaching complex skills by providing hands-on examples and guiding users as they carry out essential functions. Infinite Skills offers a wide range of software titles available as DVDs, digital downloads, and in iPad editions. Infinite Skills now offers a subscription service, providing access to all its training content for a monthly fee, keeping with company's aim of delivering professional training to customers anywhere they want to learn.