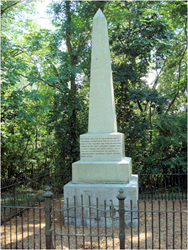 Today, the site of so much anguish is a much more peaceful place.
Greencastle, PA (PRWEB) July 24, 2014
In 1764, when Enoch Brown lived in Franklin County PA, it was the frontier of colonial America, inhabited by Scots-Irish, German, Irish, and Welsh immigrants and remained the hunting grounds of Native American tribes, in particular the Lenni Lenape, known also as the Delaware. The unrest along the frontier was ever-present as a steady influx of settlers occupied the frontier lands of Franklin County, seeping more and more into the land Great Britain promised would remain Native American territory. A year earlier in western Pennsylvania, Chief Pontiac attacked British forts because of the encroaching settlements, and British Colonel Henry Bouquet responded by attacking the Native Americans, spurring an increase of Indian attacks on European settlers of Pennsylvania, Maryland, and Virginia. It became all-out warfare. On the morning of July 26, 1764, as Enoch Brown and eleven students settled into their studies, the war came to the doorstep of the small, log school house in present-day Antrim Township, near Greencastle PA.
Three Delaware entered the school, clubbed and scalped schoolmaster Enoch Brown and his eleven pupils. Archie McCullough, one young boy, would survive by pretending to be dead as the horror happened around him. When the Delaware left the schoolhouse, Archie managed to hide himself in the fireplace until he was certain they would not return and then made his way to a nearby stream to wash his head in the cool waters. The quietness of the schoolhouse signaled nearby farmers to investigate, bringing help to Archie and discovery to the victims.
Today, the site of so much anguish is a much more peaceful place. It is now Enoch Brown Park—3 acres of greenery, which includes a memorial where the story is told on the four faces of a monument, a series of walking trails, and a pavilion.
Allison-Antrim Museum and Antrim Township remember the history that happened 250 years ago in Franklin County on Saturday, July 26, 10 AM to 2 PM, at Enoch Brown Park, located at 2730 Enoch Brown Road, off Stonebridge Road in Greencastle. Opening the commemoration is Roger Swartz with "The Significance of the Conococheague District in Pontiac's Wars-1763-1764." Swartz has authored books on frontier history, led programs for The Smithsonian Associates and the National Park Service, and is a lecturer and teacher of history up to the American Civil War. Dale Hostetter, site docent, will retell the story of the Enoch Brown Incident. Bonnie Shockey, executive director of Allison-Antrim Museum, will provide an overview of the Antrim Township area and other events of 1764. Living history is provided by Larry Gorecki, a member of the Donegal Township Riflemen who will interpret a frontiersman and engage visitors in one-on-one conversations. At noon, a brief memorial service, officiated by Rev. Ralph Geiman, will be held at the common grave of Enoch Brown and the ten students.