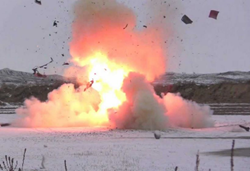 This is an incredibly dangerous product being sold in most places with very little oversight or regulation
Indianapolis, IN (PRWEB) July 25, 2014
Wilson Kehoe Winingham continues to pursue relief for a woman who was seriously injured in May 2012 when a friend shot a refrigerator that contained an exploding target, causing a piece of shrapnel to fly a significant distance and partially sever her hand.
Jennifer Plank-Greer has undergone multiple surgeries to reconstruct her hand, which she will likely never be able to fully use again.
Exploding targets are intended for use by rifle shooters who use them to determine whether they have hit their target from a long distance. They are easy to purchase and available with little regulation in most states. When used at close distances or in combination with other materials, they have caused numerous injuries across the United States.
Ms. Plank-Greer's injuries have been cited in a number of media stories as a reason why exploding targets should be more highly regulated or banned altogether.
The dangerous product has attracted attention from federal and state law enforcement officials and state lawmakers who believe it could be used to make an improvised explosive device (IED) and should be further restricted to prevent injuries such as the ones Ms. Plank-Greer suffered. Maryland became the first state to ban the targets in October 2012.
In December 2014, WKW filed a lawsuit in the U.S. District Court for the Northern District of Ohio (Civil Action No. 3:13-CV-01266) against the manufacturer of the target that caused Ms. Plank-Greer's injury, as well as the store where it was sold and the owner of the property where she was injured.
WKW attorney Chris Stevenson, a former commercial pilot with a background in engineering, is pursuing the case on Ms. Plank-Greer's behalf.
"This is an incredibly dangerous product being sold in most places with very little oversight or regulation," Stevenson said. "These targets are a threat to public safety and law enforcement, as well as victims like Ms. Plank-Greer who have been seriously injured or killed by them."