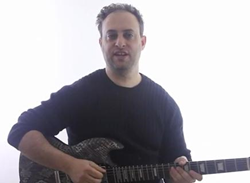 (PRWEB) July 25, 2014
Johnson demonstrates how to add bass notes to transition in and out of chords to add some flavor and style to your playing by playing some easy recognizable riffs from popular songs. The song riffs that Claude demonstrates are; Midnight Rider by the Aleman Brothers and Wanted Dead or Alive by Bon Jovi. Johnson also plays some examples in the country genre that are quite common as well as making up a riff on the spot to emphasize how easy of a concept this is so you can add it to your own playing right away. Other popular examples of this would be; Limelight by Rush, whole Lotta love by Led Zepplin and Ghost Riders in the Sky. Guitar TAB's are available for this easy beginner guitar lesson at GuitarControl.com.
A "riff" is the catchy part of a song that sticks in your head. One of the most recognizable guitar riffs of all time is "Smoke on the water" by Deep Purple.
Claude Johnson
Claude Johnson, a native of Philadelphia PA, began playing guitar in 1990 after being inspired by players like Jimi Hendrix, Eric Clapton, and Stevie Ray Vaughn. He is the creator of GuitarControl.com and has helped 1000's of people to learn to play the guitar with his critically acclaimed instructional DVD courses, all available at GuitarControl.com
About GuitarControl.com
GuitarControl.com is the leader in modern guitar instruction. It's packed with recourses including articles, video lessons, and the best videos in the business for the beginner to the advanced guitar student taught by the best instructors out there. Weather you are into the blues, rock, jazz, metal, folk, or anything in between, they have you covered.