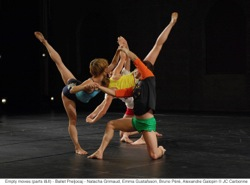 A combination of classic trade show, global expert forum, and dance festival with performances by dance companies from all over the world.
Düsseldorf, Germany (PRWEB) July 24, 2014
The success and reach of Düsseldorf's contemporary dance fair (international tanzmesse) is a welcome development, not anticipated when the event began as a local dance event in 1994. Today, the fair attracts dance companies, professionals and artists from all over the world for its extensive 4-day program, including a trade show with 400 companies exhibiting in 125 booths, dance performances by 60 international companies on 11 stages all over the city, and networking and educational opportunities with experts from all over the world. About 1,500 attendees are expected for the 10th biennial dance fair and its 20th anniversary.
This year's event (dates: August 27-30, 2014) will continue its winning format -- a combination of classic trade show, global expert forum, and dance festival with performances by dance companies from all over the world.
Event highlights include:
"Empty Moves" by French ballet company Prelijocaj, which opens the fair on August 27 at the Capitol Theater with a piece inspired by a recording of a reading by John Cage from 1977.
US company "Kyle Abraham/Abraham.In.Motion" and their piece "Pavement," which combines classical and street dance.
The series "Performance Parcours," part of the fair for the second time. This year it will feature 7 pieces of up to 15 minutes each that combine dance with elements of art performance and installation.
A brand new fair feature: a young-audiences program for children ages 2 years and up. It is part of the effort by the event's new Creative Director, Felix Wittek, to make the event and contemporary dance accessible to an audience of all ages, languages, and cultures. "Flying Cow" by the De Stilte company from the Netherlands and "Buckets of Feelings" by German company tansfuchs PRODUKTION are two of the pieces.
The fair's closing event on August 30, also at the Capitol Theater: "Jemina – act as you'd known her" by Helsinki Dance Company from Finland, featuring a clownish dance queen with elements of stand-up comedy, soft porno, cabaret, comedy and tragedy.
For more information on internationale tazmesse, please visit: http://www.tanzmesse.com.
Düsseldorf's tourism office is offering hotel and city specials for many of the city's events throughout 2014, including the internationale tanzmesse. The package, called "Düsseldorf à la Card," can be booked right from the tourism office's website at https://www.duesseldorf-tourismus.de/en/accommodation/hotel-packages/duesseldorf-a-la-card. Prices start at €49 per night per person based on double-occupancy for a 2-3-star hotel in the city center and at €95 per person for a 4-star hotel. The package includes breakfast, one DüsseldorfCard (free public transportation within city limits plus 30 free or reduced admissions to city attractions), and a city information package. Please check the website for current information.
For more information about the destination Düsseldorf, please visit: http://www.visitduesseldorf.de.
###
Düsseldorf Marketing & Tourism GmbH is the visitors and convention bureau of the city of Düsseldorf. Its responsibilities include tourism and city marketing, as well as conference and meeting marketing, hotel reservation services, fairs and convention services, city event ticket sales and advance ticket reservations. For more information, visit http://www.visitduesseldorf.de.
Düsseldorf Airport, Germany's Next Generation HubTM, offers several non-stop flights from US & Canadian cities (Atlanta, Chicago, Ft. Myers, Los Angeles, Miami, New York, Newark, Toronto), as well as convenient connections to many European cities. For more information about the airport, visit http://www.dus.com.