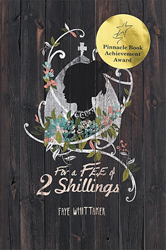 Fate has a way of confronting those who succumb to their own weaknesses.
(PRWEB) July 25, 2014
Intrigue and mystery shroud the beautiful young Maori woman, Miri. Her attempt to bring about her childhood obsession and fantasy to be other than she is creates a mantle of despair that hovers over her life. The choices she makes, the men in her life, and her mistakes impact her children's lives, as well as those around her.
Fate has a way of confronting those who succumb to their own weaknesses. In this case, fate gives cause to examine religious and spiritual beliefs, family relationships, cultural expectations, bigotry, and prejudices. And it was all "For a Fee of 2 Shillings".
About the Author
Faye Whittaker is an education director in New Zealand. This is her fourth book and first novel. "Several years ago, as a Supreme Court cadet, I met an aging lawyer who befriended me, encouraging me to attend university and obtain a degree in law. I thought highly of this man, although he revealed little of his own life. I found myself imagining his life story, and as a result, he became a central figure in my novel." For more on the author and her work, go to http://www.dancinglion.co.nz/index.html
Watch the video at: https://www.youtube.com/watch?v=V32cs8dG9pI
Book Details
Genre: FICTION / Cultural Heritage
Author: Faye Whittaker
Format: Paperback, 266 pages
Pub date: June 2012
"FOR A FEE OF TWO SHILLINGS" (ISBN: 978-1-62857-337-4) is now available for $16.50 and can be ordered through the publisher's website:
http://sbprabooks.com/FayeWhittaker, Amazon or Barnes and Noble.
WHOLESALERS: This book is distributed by Ingram Books and other wholesale distributors. Contact your representative with the ISBN for purchase. Wholesale purchase for retailers, universities, libraries, and other organizations is also available through the publisher; please email bookorder(at)aeg-online-store(dot)com
Further Information
Ellen Green, Press Manager, Strategic Book Publishing and Rights Agency, 703-899-8128,
pressmanager(at)sbpra(dot)net
Strategic Book Publishing and Rights Co, LLC