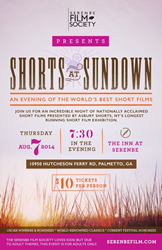 a rare opportunity for audiences to see elite shorts in a theatrical setting
Chattahoochee Hills, GA (PRWEB) July 26, 2014
Asbury Shorts, New York City's longest running short film exhibition, will bring their nationally acclaimed shorts "concert" to The Inn at Serenbe on Thursday night, August 7th. Tickets cost $10 general admission. The event is called: "Shorts at Sundown" and is co-presented by The Serenbe Film Society.
Asbury mixes classic, world-renowned films with current festival honorees providing a rare opportunity for audiences to see elite shorts in a theatrical setting rather than on a computer, smart phone or iPad. Academy Award nominated director Jason Reitman ("JUNO," "Up in the Air," "Thank You for Smoking" and "Young Adult") calls Asbury Shorts: "The best short film show I've ever seen." The fast-paced, highly entertaining evening features the best in live action comedy, drama and outstanding animation. Highlights of the August 7th show include:
ASAD – The remarkable coming of age story of a young Somali boy living precariously in his war torn country, who has to choose between becoming a pirate or a fisherman. ASAD was nominated for a 2013 Academy Award and is a five-time film festival winner, including Best Narrative Short Film at The Tribeca Film Festival and the Audience Awarded: "Best Short Film" honor at the 2012 Los Angeles Film Festival.
Death, Taxes & Apple Juice – The winner of the "Audience Choice Award" at The 2012 Los Angeles Shorts Festival. Director Tamar Halpern's delightful and charming story of a young woman suffering a life crisis who ends up venting her problems to her tax preparer. Oh…the two of them are nine years old.
Super Powers - a six-minute comedy by New York Directors John Mitchell and Jeremy Kipp Walker.
"Best of Show" Winner at The 2007 Tribeca Film Festival. A young married couple attempts to spice up their lives with some super hero role-playing…. while in the midst of moving to a new apartment.
The Asbury Short Film Concert has been presented at: The Museum of Fine Arts Boston, Lake Shore Theatre in Chicago, The Bijou Cinema in Bridgeport, Ct., Visions Cinema in Washington, D.C., Summer Stage in Central Park, The Director's Guild Theater in Manhattan, The AERO Theatre in Santa Monica, CA, Royal Festival Hall in London, U.K. and the Leminske Theater in Berlin, Germany to name a few of the prestigious venues where audiences have enjoyed these amazing independently-produced films. For more information about Asbury Shorts please visit: http://www.asburyshortsnyc.com.
The Serenbe Film Society is dedicated to bringing together people who love film, with special screenings, filmmaker discussions and one-of-a-kind events. For information and tickets please go to: http://serenbe.com/events/serenbe-film-society-shorts-at-sundown The Inn at Serenbe is located at: 10950 Hutchesons Ferry Road, Atlanta.
Serenbe is pioneering a new farm-to-table community model connected to nature on the edge of Atlanta. Building a neighborhood where fresh food, fresh air and sustainable development make wellbeing as natural as nature itself. Set among acres of preserved forests and meadows with miles of nature trails connecting homes and restaurants with arts and businesses, Serenbe's architectural planning sets a new standard for community living and engagement by remembering past. http://www.serenbe.com