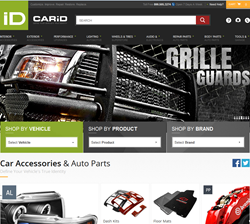 (PRWEB) July 26, 2014
Today there are numerous websites where a car owner can buy automotive parts and accessories. However, on many of these websites motorists have a hard time finding what they need and placing an order. That is why CARiD is always striving to make its online store as easy to use as possible. In July 2014, CARiD significantly redesigned its website to make it more user-friendly and simple to navigate. Firstly, the search options such as Shop by Product and Shop by Brand are updated. For example, choosing the Performance Parts category, a customer automatically gets to performance parts without the need to scroll down the page. As for the Shop by Brand section, consumers have the opportunity to browse the desired parts and accessories from the chosen manufacturer, as well as view top manufacturers by clicking on the letter their names begin with, which is very convenient.
Recently CARiD added a new sitemap page, which includes clearly organized product categories. Looking for quality tail lights? Clicking on the letter T at the top of the page, consumers can find a wide range of tail lights and choose the ones they need. And while on that page, they can also see every part, category, brand, product, and make/model that begins with the letter T. Thinking about a WeatherTech accessory? Clicking on the letter W and then on WeatherTech, customers get to a vast collection of WeatherTech floor mats, cargo liners, bug deflectors, sun shades, and more, with the links that will take them directly to the product page. Or if car owners just want to see what's available for their car or truck, the Shop by Vehicle option will take them to all the parts and accessories that are manufactured just for their make, model, and year. In short, the sitemap page is a quick and easy way to access any page at CARiD.
CARiD has also added a new customer feedback page where every potential customer can check out the latest product reviews, including product testimonials, left by real customers, as well as ratings on trusted third-party websites. CARiD strives not only to sell high-quality products but also ensure that every customers questions are answered and concerns addressed so they are completely satisfied with their shopping experience. At CARiD, every client can buy with confidence knowing that they are getting products with a proven reputation for quality, reliability, and performance.
About CARiD:
The company was founded in New York City more than ten years ago. Today it is located in Cranbury, New Jersey and has several warehouses across the country, which is why clients can get their orders quickly. CARiD offers a comprehensive line of premium automotive parts and accessories, both factory original and aftermarket. On CARiD's digital shelves, customers will find everything they need from dash kits and door sills to ignition systems and turbochargers. The company is affiliated with world renowned manufacturers in the auto industry such as DashMat, Hidden Hitch, Motorcraft, Replace, Spec-D, Westin, and more brands that always deliver superior quality products.
Location:
1 Corporate Drive
Cranbury, NJ 08512 USA
Phone: 800-505-3274 (toll free)
Fax: 609-964-1983