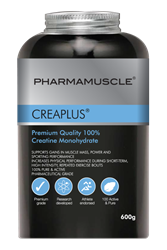 (PRWEB UK) 25 July 2014
A new study involving the effects of creatine supplementation on strength revealed results that showed it prevented a decrement in power. Studies involving creatine supplementation in football players are rare and so the results of this study are an exciting find. During the phase of pre-season training, the intensity of training is increased greatly which can lead to functional overreaching (1). This means that there is often a decrease in performance of players.
During the 7-week study period, football players were given creatine monohydrate supplementation and their lower-limb power was measured regularly by countermovement jump performance. It was found that creatine monohydrate supplementation prevented loss of power; however, in the control group who were not given any supplements, a decrease in power was observed. High-quality creatine monohydrate supplements like Pharmamuscle's Creaplus (2) have been clearly shown to aid maintain power during training to improve performance.
Branched Chain Amino Acids (BCAA) are a group of amino acids that have a distinct molecular structure with branched side-chains. The three BCAAs are Valine, Isoleucine and Leicine. BCAA are a popular sports nutrition supplement because they help to reduce and prevent delayed onset muscle soreness, which is caused by higher intensity training. Delayed onset muscle soreness is a significant problem in exercise as it affects performance and strength for several weeks.
In a study published by the Journal of the International Society of Sports Nutrition, BCAA supplements were given three times a day to patients for two weeks continuously before high-intensity exercise induced delayed onset muscle soreness occurred (3). Delayed onset muscle soreness was measured through subjective assessment of muscle soreness by the test subjects and also through analysis of blood samples for markers of muscle damage. The serum activity of creatine kinase, lactate dehydrogenase and aldolase were used as indicative markers of muscle damage.
The results showed that with BCAA supplementation, the markers for muscle damage were reduced compared to a control test group who did not take any BCAA. Additionally, the subjective assessment of muscle pain by the test subjects reported lower muscle strain. Notably, the study also included a test group who were given BCAA supplementation combined with taurine supplementation which was found to further augment the effects of BCAA.
Pharmamuscle has produced Mega Aminos (4), the highest quality BCAA supplement available that can be purchased on the Pharmamuscle website: http://www.pharmamuscle.com/mega-aminos-bcaa-capsule-p-177930.aspx. The Nutritional Expert at Pharmamuscle commented on their products; "We have designed our BCAA supplement, Mega Aminos and creatine supplement, Creaplus using strong scientific evidence to ensure that our consumers gain maximum benefit from our sports supplements".
References:
(1) http://www.jissn.com/content/11/1/32 (Jun 2014)
(2) http://www.pharmamuscle.com/creaplus-100-creatine-monohydrate-p-177928.aspx
(3) http://www.jissn.com/content/10/1/51 (Nov 2013)
(4) http://www.pharmamuscle.com/mega-aminos-bcaa-capsule-p-177930.aspx