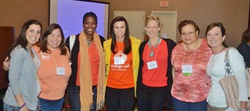 'I consider myself pretty knowledgeable about diabetes, but this Conference blew me away with new information and health tips... worth every penny!' - Karen Tank, Princeton, NJ
Los Angeles, CA (PRWEB) July 24, 2014
On October 24-25th, 2014, hundreds of women with diabetes and their loved ones will descend upon the Embassy Suites LAX North for DiabetesSisters' power-packed weekend conference. This will be the eighth Conference hosted by DiabetesSisters and the first time it has convened Los Angeles, CA area. It will also be the first time for the organization to open the entire event to both women with diabetes and their loved ones.
As the only conference of its kind worldwide for women with diabetes, the event offers opportunities for women of all ages with all types of diabetes from all walks of life to gain the tools, strategies, resources, and connections needed to accelerate their success in every area of diabetes management. Attendees travel from all over the US and Canada, representing at least 20 US states at every Conference. DiabetesSisters' Welcome Team provides support to all first-time attendees to ensure a true "sisterhood" experience for everyone. While there, attendees learn about the latest diabetes products, build their support networks and attend education sessions conducted by diabetes experts and well-known diabetes advocates. Conference topics include nutrition and clean eating, exercise, parenting and menopause.
"With so many well-respected leaders from the clinical and advocacy sides of diabetes slated to speak at this Conference, there will definitely be deep, rich dialogue among everyone in attendance. Bringing loved ones into the mix is the obvious next step because research has shown that their support is critical to a woman's success in diabetes management," said Anna Norton, DiabetesSisters' Operations Manager who has lived with diabetes since 1993.
The theme of DiabetesSisters' 2014 Conference is Stepping Stones. "Diabetes management is a life-long marathon, not a sprint. The Stepping Stones theme represents the idea that success is achieved by taking small steps in diabetes management," said Brandy Barnes, Founder and CEO of DiabetesSisters who has lived with diabetes since 1990.
A detailed Conference agenda (including session topics and speakers), discounted hotel information ($139/night until September 25), and a link to registration ($125 until October 10) can be found at: http://www.diabetessisters.org/2014LA. Registration pricing is the same for women with diabetes and their loved ones. This price includes reception with appetizers on Friday, cooked-to-order breakfast, buffet lunch, and evening reception with appetizers on Saturday, attendance to all education sessions on Friday and Saturday, and many giveaways. A free 24-hour shuttle service to the airport is provided by Embassy Suites LAX, which is located one-half mile from the airport and the Los Angeles coastline. The hotel is also a short drive to downtown LA, Beverly Hills, Hollywood, and Malibu. Please note: The Partner's Perspective Program will not be offered at this Conference; instead, partners, spouses, brothers, sisters, parents, friends, and any other loved ones of women with diabetes over the age of 18 are encouraged to register and attend the Conference alongside their female loved one with diabetes.
"As a certified health coach, I consider myself pretty knowledgeable about diabetes, but this Conference blew me away with the amount of new information and health tips it provided for women with diabetes. I walked away inspired to invite more women to join the sisterhood and to take better care of myself….worth every penny!" said Karen Tank, DiabetesSisters' PODS Meetup Leader in Princeton, NJ and 2014 Washington, DC Conference (first-time) attendee.
DiabetesSisters appreciates Sanofi's continued support as the Premier Sponsor of DiabetesSisters' 2014 Conference Series. A special thank you is also extended to Novo Nordisk and Janssen as Gold National level sponsors and to Johnson & Johnson and Merck as Bronze Regional level sponsors.
About DiabetesSisters
The mission of DiabetesSisters, a 501c3 nonprofit organization, is to improve the health and quality of life of women with diabetes and those at risk of developing diabetes, and to advocate on their behalf. DiabetesSisters' 10,000-member peer network unites women with diabetes for the purpose of support, education and advocacy. Signature programs include monthly small group meetings (PODS Meetups) throughout the U.S. and Canada; conferences throughout the U.S.; and Life Class Webinars. For more information, please visit http://www.diabetessisters.org.