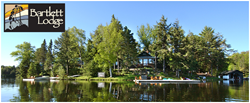 Putting together our small Canadian art show is a labour of love that we look forward to each year.
Algonquin Park, Ontario (PRWEB) July 24, 2014
Kim and Marilyn Smith, the owners of Bartlett Lodge (http://www.bartlettlodge.com), an upscale lodge and eco-friendly cottage resort located within the boundaries of Algonquin Provincial Park, are pleased to announce that the installation of this year's annual Bartlett Lodge Art Show is now on display. The art show which features original work from a collection of contemporary Canadian artists, including several famous Canadian art legends, will be on view at the Lodge until the end of the season in mid-October.
For the 2014 art show, Bartlett Lodge has selected "Canoes" as the theme, with every painting and drawing included in the show prominently featuring at least one or more canoe as the focal point of the work. Art pieces in the show include a 19th-century watercolour by Frederick Arthur Verner, two late 19th-century and early 20th-century watercolours by T. Mower Martin, two 1925 oil sketches by J.W. Beatty (a contemporary of Tom Thompson of the Group of Seven), and pencil drawings by Thoreau Macdonald, Alan Bateman and Ken Danby. Other artists of note represented in the show are Tony Bianco and Gene Canning. Along-side each work on display is information about history of the piece and a brief biography of the artist. The art pieces displayed in the show are on loan from private collectors and some items are available for sale.
Bartlett Lodge's art show is hung in the Algonquin Park resort's lakeside fine dining room and in their newly relocated and restored guest lounge Isabel's Cabin, a 150-year-old log structure that was once the retreat and studio of Isabel McLaughlin, a noted Canadian artist and friend of some of Canada's most famous painters including Arthur Lismer A.Y. Jackson and Lawren Harris. The art display is open to Bartlett Lodge guests and dining room patrons at no charge.
"Putting together our small Canadian art show is a labour of love that we look forward to each year," says Bartlett Lodge owner Kim Smith. "The art show's featured work this year is a large acrylic on board titled "Tanamakoon" which was painted in 1993 by well-known Canadian artist Ken Danby. This is entirely fitting as Camp Tanamakoon, an Algonquin Park camp for girls and our neighbor, is celebrating their 90th anniversary in 2014. We feel that it is important to recognize the history of Algonquin Park and its strong role in shaping Canadian art and influencing Canadian artists. For more than a century the Park has been a Mecca for artists of all kinds. Countless artists have come to the Park to create; from contemporary artists to members of the Group of Seven who crafted some of their most famous pieces here," adds Smith.
About Bartlett Lodge:
Located on within the borders of world renowned Algonquin Provincial Park, Bartlett Lodge on beautiful Cache Lake offers a one of a kind Ontario vacation experience with stylish lakefront cottage rentals, luxury canopy tent accommodations and award-winning fine dining; all in a private and unspoilt wilderness setting. Acclaimed as an eco-friendly for its commitment to preserving the environment through sustainable practises, Bartlett Lodge is a favorite Algonquin Park resort for romantic couples, adventure tourists, family vacations, small group functions and weddings. For more information or to book your fabulous Algonquin Park vacation, visit http://www.bartlettlodge.com or call toll free 1-866-614-5355.
Contact Information:
Marilyn & Kim Smith
Bartlett Lodge
132 Reynolds Street
Oakville ON L6J 3K7
Telephone: (905) 338-8908
Toll free: 1-866-614-5355