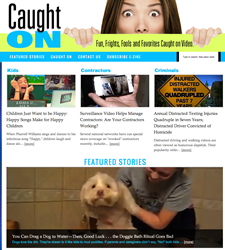 ...security video, surveillance video, dash cams and smartphone video are helping shape the debate on distracted texting and driving.
Toronto, Canada (PRWEB) July 24, 2014
Caught On Magazine this week demonstrates how security video, surveillance video, dash cams and smartphone video are helping shape the debate on distracted texting and driving. In other stories, pervasive cameras capture moments of tenderness with a toddler and a new-born fawn, and the hilarious antics of dogs who simply refuse the dog bath.
"Annual Distracted Texting Injuries Quadruple in Seven Years; Distracted Driver Convicted of Homicide"
Distracted driving and walking videos are often viewed as humorous slapstick. Their popularity online as entertainment may indicate we take the issue too lightly. Caught On demonstrates this with four alarming videos. In the first video, we're eye-witnesses to a landmark case that found a distracted driver guilty of homicide. In the second, courtesy of a dash cam, we see thrilling and frightening video of a police officer diving out of the way of a car, driven by a distracted driver, who demolished two cars and injured two people.
Real life is not slapstick, and though some people laugh at videos of distracted walkers, Caught-On shows the darker side of the issue, with videos of people walking into 35-foot-deep sinkholes and in front of subway trains while texting.
Watch the videos and read more>>
You Can Drag a Dog to Water—Then, Good Luck . . . the Doggie Bath Ritual Goes Bad"
On the lighter side, Caught On profiles a compilation of hilarious dog bathing moments, caught with home surveillance cameras* and smartphone video.
Dogs love the dirt. They're drawn to it like kids to mud puddles. If parents and caregivers didn't say, "No!" both kids and dogs would happily romp through mud, creek, puddle, nettles, burrs, weeds and—at least in the canine world—take the occasional roll in unmentionables. Not to mention chance encounters with skunks. All of which makes the doggie bath ritual a necessity for most canine caregivers. Sadly, it is also an ordeal of epic proportions for many. Watch the hilarious video "Dogs don't want to bathe" to see just how many creative, wacky and simply panicky ways dogs find to escape the horror of the bathtub.
Watch the video and read the story>>
"Fawning over Fawns: A Great Dane Adopts a Baby Deer and a Little Girl Finds a New Bambi Friend"
Fawns are among the most adorable of baby animals. It may not be a coincidence that the word for a baby deer, fawn, also means "to show affection." Children universally fawn over fawns, evidenced by the enduring popularity of Bambi, a book and animated film featuring a baby deer. Adults, too, can't resist little Bambis.
In a special series of three videos, Caught On gets up close to baby deer. In one video, an adorable toddler encounters an unexpected visitor, a newborn fawn half her size. They are instant friends. In another, a giant canine goes maternal, adopting an orphaned fawn. The video follows the story of Great Dane Kate and Pipin the fawn—who remain bonded long after the fawn became a beautiful doe. In a final video, Caught On reveals a touching reunion of a fawn with her mom, after a traumatic separation.
Watch the videos and read the rest of the story>>
About Caught On!
Caught on video! Caught On zine showcases those special, fun, scary, candid, freaky moments captured by home and business security cameras, street cameras, surveillance videos or smartphones.
Pervasive cameras have changed our world. We are more secure today because of them. We also capture more of life's treasured moments thanks to cameras everywhere. Our phones have cameras. Street corners, stores, businesses and subways all have them. Increasingly, more and more homes have them—and not just at the door for security, but throughout the house.

Home surveillance systems, such as iWatchLife, are being used more and more for lifestyle compilations.