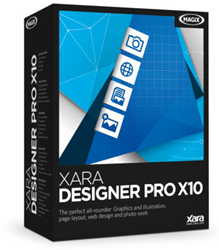 'Xara Designer Pro is the only single-product solution that combines all graphic design, photo editing, advanced page layout, illustration and web design features into a single, lightning fast, WYSIWYG design tool,' said Charles Moir, Managing Director.
(PRWEB) July 24, 2014
Xara announces a new release of Xara Designer Pro X10, the ultimate all-in-one creative software that provides all the tools for a range of graphic design tasks that would normally require three or more separate 'suite' programs: illustration, photo editing, web graphics, advanced page layout (Desktop Publishing & PDF), websites and more. By combining all these tools in one program, Xara Designer Pro achieves faster performance with no program switching, which has the advantage of an easier learning curve, high productivity and excellent value for money.
Xara Designer Pro is the world's highest performing graphics software with speeds enabling more complex and realistic graphics to be created more easily and in less time. Xara Designer Pro supports multi-core processors for even faster performance, and provides tools that might typically be required by professional designers such as PANTONE®, CMYK, color separations and PDF/X.
This new release features Xara's innovative new publishing technique called Supersites that are an alternative way of publishing print documents and websites; instead of just being a separate set of web pages, with the typical 'click-wait-load' way to navigate a website, a 'supersite' provides instant navigation between pages, along with slick animated page transitions - all designed to make a website stand-out from the crowd. In addition, users can choose to have all web pages presented as a single scrolling list of pages, one below the other (ideal for pages to be viewed in a PDF style format), or arranged horizontally, one beside the other, with swipe actions (on touch devices) to navigate from page to page. The website can be set to 'fit to screen' so that it smoothly and automatically resizes to fit any browser window.
Xara Designer Pro X10 supports Responsive Web Design, a technique to create multiple layout variations of the same website optimized for different devices such as mobiles, tablets and desktop computers. Xara's responsive web design solution allows users to create a single HTML file containing multiple variants of their website at different widths. The website responds dynamically to the screen size of the viewer (using CSS media queries), presenting the design most appropriate to their device. Users have the ability to freely customize the layout of the variants to suit the target device size, eg. desktop, tablet and phone. In line with the Designer Pro philosophy, it's a genuinely WYSIWYG solution, no coding required.
Xara SmartShapes are a new and innovative way to draw aesthetically attractive shapes on a document, that require no knowledge of any drawing tools, and furthermore, they remain fully customizable. Users can quickly and easily create and edit some of the most commonly required shapes. The library of SmartShapes will grow over time, but starts with text panels, speech bubbles, arrows and more. Xara has also introduced a quick and easy way to insert graphical symbols from the large and growing Font Awesome selection.
Bundled with this release is a new Photoshop plug-in called PhotoLooks from Red Giant (previously sold by Red Giant for $199) for users wishing to intensify the mood of their photo via various color and lighting effects or adding a popular film look from soft lighting to Hollywood drama. The plug-in includes over 100 pre-sets inspired by real commercial projects, from wedding vignettes to popular cinematic looks.
New shadow and highlight controls provide the user with precise editing control over specific areas of their photo that are in deep shadow or bright light. The automatic panorama stitching has been improved to automatically detect the position of stitched images and it also produces higher quality results.
This release also includes a new online content catalog, new templates and widgets, support for the automatic rotation of images from iPhones and other cameras with orientation sensors, a new insert menu, improved web presentations, improved import/export support for .doc and .docx files, RTF files. Also new is a significantly improved PDF import that allows almost all PDF files to be edited.
Charles Moir, Founder and Managing Director said, "Almost every published document, be it a website, a printed document, PDF, flyer or company report, consists of a combination of photos, vector graphics, text and page layout. Xara Designer Pro is the only single-product solution that combines all these features into a single, lightning fast, WYSIWYG design tool. It's not just easier to learn and easier to use, but dramatically better value than alternative solutions.
Supersites are a new way to publish print documents online. No PDF or plug-ins required and it's compatible with all modern browsers. Xara Designer Pro X10 can also now produce Responsive Websites, so you can design the perfect layout for mobile and tablets or desktop and it's all one intelligent HTML5 compatible website, that responds to the device (or browser dimensions) viewing the website."
Xara Designer Pro X10 costs just $299 for US customers, £249 for UK (inc VAT) and €279 (inc VAT) for the EU. Upgrades are available from $99, £79 and €89.
It operates on Windows XP/Vista/7/8.1 and requires a minimum 500MB of RAM and 300MB of hard disc space.
For more information see - xara.com/designer-pro
Editors' Notes
More information and downloads
Please see the press center at xara.com/press-center/designer-pro/
This includes press materials, graphics, screenshots, product information, a full list of new features and release notes that describe all the new features in detail.
Contact:
For more details or a serial number to unlock the trial version please contact: Nova Fisher, nova(at)xara(dot)com, Tel: +44 1442 351035
About Xara Group Ltd
Xara, founded in 1981, was one of the oldest independent software developers in the UK, until it was acquired by MAGIX AG in 2007. Xara continues to develop innovative graphics, website building, and document publishing tools, which are marketed around the world under both the MAGIX and Xara brand names.
About MAGIX AG
MAGIX is a leading international provider of high-quality software, online services and digital contents for multimedia communications. Since 1993, MAGIX has been developing leading technologies for creation, editing, management and presentation of photos and graphics, videos and music. Internationally, MAGIX operates from branches in the USA, Canada, the UK, Germany, France, Italy, Spain and the Netherlands. The product range is targeted towards laymen and professionals alike and goes beyond the PC range to include seamlessly integrated online and mobile applications.
According to its retail sales figures, MAGIX leads in the multimedia software sector in the most important European markets, and is one of the most successful competitors in the USA. Fifteen years of market presence as well as one thousand awards worldwide testify to the company's power of innovation.