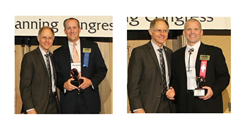 "Ben Pahl and Gerald Friedel have played an important role in the growth of our platform"-Executive VP Barry Dayley
Palm Beach Gardens, FL (PRWEB) August 02, 2014
Top Financial Institution and advisor honors were awarded to Ben Pahl from Great Lakes Credit Union and Gerald Friedel from Itasca Bank & Trust during Money Concepts Financial Planning Congress. Executive Vice President Barry Dayley stated, "Money Concepts has made great strides in effectively serving community banks and credit unions. Outstanding professionals such as Ben Pahl and Gerald Friedel have played an important role in the growth of our platform.
Recognizing the unique needs of community banks and credit unions, Money Concepts established a dedicated platform to provide financial services within these institutions. This platform supports turn-key resources needed to provide a full array of financial planning products and services to institution members and customers.
About Money Concepts®:
Money Concepts Capital Corp. is a privately owned independent broker-dealer and dually registered as a Registered Investment Advisor based in Palm Beach Gardens, FL. Established in 1979, and its parent company Money Concepts International, Inc. has a network of approximately 700 financial professional's centers nationwide.
In addition to serving independent advisors, Money Concepts® provides turn-key wealth management services for community banks, credit unions and tax professionals. Money Concepts® advisors provide holistic planning and offer a full array of non-proprietary products and services including advisory and alternative investment services.
All Securities Offered Through Money Concepts Capital Corp. | Member FINRA / SIPC
Money Concepts Advisory Service is a Registered Investment Advisor with the SEC
All Non Securities and Non Advisory Products through Money Concepts International, Inc.11440 North Jog Road, Palm Beach Gardens, FL 33418. 561-472-2000.
For more information visit http://www.MoneyConcepts.com/Advisor and follow us on Facebook, Twitter and LinkedIn