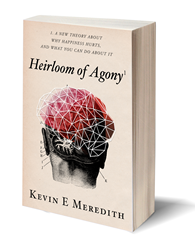 Your pursuit of happiness is an illusion, the disguise your mind wears to conceal its true objective, emotional balance, a state so important it will impose intolerable suffering rather than let you get off course.
(PRWEB) July 29, 2014
Psychology writer, poet and novelist Kevin E Meredith introduces a startling, counter-intuitive theory today about the pains and sorrows that often seem to follow joyous events.
In Heirloom of Agony: A New Theory About Why Happiness Hurts, And What You Can Do About It, Meredith consults neuroscience, popular culture, the tortured histories of successful people (Bruce Springsteen, John Quincy Adams, Bernard Taupin, Lana Del Rey, Abraham Lincoln), and even the Bible to propose and investigate the following theory:
In order to maximize reproductive effectiveness through emotional balance, the human mind has evolved mechanisms that counter excessive happiness with artificial pain, when natural pain is unavailable.
The importance of this theory cannot be overstated. As Meredith writes:
"If economists discovered that a certain portion of every individual's money was destroyed, with the wealthiest people losing all of it, such would become a central tenet of economic theory. If physicists discovered that some or all of a collection of matter disappeared once too much of it had accumulated, all further work in the material sciences would have to take the principle into account. And if the case can be made that excessive happiness provokes the application of pain from within the mind itself, we must redefine the pursuit of happiness. Indeed, given that people are at their core happiness-maximizing beings, this is an idea that fundamentally redefines not only the pursuit of happiness, but ultimately, what it means to be human."
After presenting the arguments that such a feature would be useful in humanity's evolution, Meredith notes the many ways our brains seem designed to inflict needless suffering on us, and then investigates the many instances where the suffering seems to come in proportion to success and good fortune, both collectively and in individual lives.
Heirloom of Agony concludes with ideas for countering the power of this cruel force, some obvious, and some surprising and counter-intuitive.