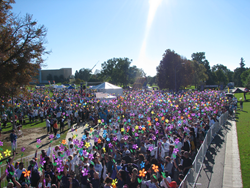 Register for Denver's Walk to End Alzheimer's as an individual or as a team. Go to coloradoalzwalk.org to set up your walk page with personal stories and photographs.
Denver, CO (PRWEB) July 24, 2014
This year the Walk to End Alzheimer's in Denver, sponsored by E Light Electric and Jackson National Life, will be held on Saturday, September 20 in Denver City Park. Registration begins at 7 am, the Kids Fun Run at 7:50 am, the untimed 5k Run at 8 am and the Walk starts at 9 a.m.
"The Walk to End Alzheimer's unites the entire community in a display of combined strength and dedication in the fight against this devastating disease, "stated Linda Mitchell, CEO and president of the Alzheimer's Association Colorado Chapter.
"Each participant has his or her own reason to end Alzheimer's. Perhaps they lost a loved one to the disease or watched a friend struggle to care for their mom or dad, or perhaps they want to help create a world without Alzheimer's for their children's future."
"By participating in the Walk each of us can help to build momentum to find better treatments and eventually a cure," continued Mitchell. "As our largest national fundraising event, proceeds help local Chapters like ours provide services and programs at no cost to families throughout our communities who so desperately need our help."
This year there will again be a Promise Garden of flowers carried by participants during the walk. Each color represents a different promise: Blue promises to honor someone with the disease, Purple promises to remember someone who has died, Yellow is for those who promise to provide care and Orange is for those who promise to fight for the cause.
The Promise Garden flowers, sponsored by Sunrise at Pinehurst, will be available to individuals, team captains and team members who register and those who make a $5 donation.
Team captains are dedicated volunteers who organize teams for fundraising, often hosting neighborhood parties where everyone is asked to make a donation. Other activities might include donating to a couple getting married instead of bringing gifts, bake sales, and car washes.
Unlike many non-profit fundraising walks, this Walk doesn't require a registration fee in exchange for a t-shirt. This is a pledge event where each person who walks is asked to make a personal contribution and ask family, friends and co-workers to support them with a donation to the Alzheimer's Association. Once participants reach $100 in pledges they receive a commemorative t-shirt.
"It's going to be a very special day," said Mitchell. "In addition to the refreshments and live entertainment, we will have researchers on hand to answer questions about the progress we are making in new diagnostic tools and treatment alternatives. There will also be a special "Shop to END ALZ" tent offering items for sale with proceeds going to support the Association, our Photo Booth and refreshments."
Champions, who are individuals raising $500 or more, receive special benefits including a Champions Medal and entrance to the Champions Tent. Champions also receive special snacks and an exclusive area to gather prior to and after the Walk.
Champions for this year's walk include Jenny McCormack, Rand Frederic, Lynn Leadley, Judi Pring, Jan Murdoch and many more. Additional major sponsors include Sunrise Senior Living, Gates Rubber, Wells Fargo, Gentiva Hospice, and InnovAge.
"Each year we hear from our participants that the Walk offers a unique opportunity to feel a sense of community and support on the long road of Alzheimer's disease. The fundraising efforts truly provide hope for a future without this devastating disease," continued Mitchell.
Registration can occur individually or as a team for any of the ten walks throughout Colorado. Go to coloradoalzwalk.org to set up a personal walk page including personal stories and photographs.
About the Alzheimer's Association
The Alzheimer's Association Colorado Chapter is the premier source of information and support for the more than 63,000 Coloradoans with Alzheimer's disease, their families and caregivers. Through its statewide network of offices, the Alzheimer's Association offers education, counseling, support groups and a 24-hour Helpline at no cost to families. In addition, contributions help fund advancements in research to prevent, treat and eventually conquer this disease. The Alzheimer's Association advocates for those living with Alzheimer's and their families on related legislative issues, and with health and long-term care providers. For information call the Alzheimer's Association 24 Hour bilingual Helpline at 800-272-3900, or visit http://www.alz.org/co.