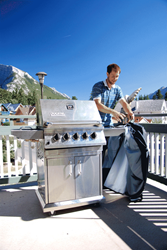 The quickest, easiest and most durable grill cover you'll ever use.
Calgary, AB (PRWEB) July 26, 2014
Local Men Go From BBQ Enthusiasts to Entrepreneurs With The Grill Canopy
Calgary and Banff locals Matt Chaplin and Sacha Hockenhull are gearing up to kickstart their dream: The Grill Canopy. With decades of friendship and a mutual passion for all things BBQ, Chaplin and Hockenhull have developed a new product that will complete revolutionize the small, but often irritating, grill cover. On July 25th, 2014 they will unveil a Kickstarter campaign - https://www.kickstarter.com/projects/2069435800/grill-canopy-innovative-grill-covering-system - to fund their first run of manufacturing.
What started as a simple question ("Why isn't there a better way to cover my grill already?!") turned into a mission. Hockenhull and Chaplin saw two distinct problems with the grill covers currently on the market: longevity and ease of use. After two years of dreaming, developing and prototyping, the pair has come up with the remarkably durable, near-instant and simple Grill Canopy.
Normal grill covers can't stand up to temperate weather, let alone the typical Canadian climate, but The Grill Canopy is entirely different. After an exhaustive search, Hockenhull and Chaplin found inspiration in the fabric used on the clothing of outdoor enthusiasts. This strong and durable fabric has been tested from -40°C to 150°C and perfectly protects a grill while strongly standing up to the elements.
Unlike grill covers on the market now, The Grill Canopy is designed to come on and off your BBQ in seconds. With a patent pending mounting bracket, and the skeleton-like design, The Grill Canopy is easy, reliable and, dare we say, revolutionary.
To fund the first run of manufacturing, The Grill Canopy is using the established Kickstarter platform. Fans and supporters can help out by donating a little, or by purchasing a Grill Canopy at different supporting levels that will be shipped out for free as soon as they're ready.
About The Grill Canopy
The Grill Canopy is the dream, passion and budding business of Calgary and Banff locals Matt Chaplin and Sacha Hockenhull. Inspired by simplicity and necessity, The Grill Canopy is determined to make their little difference and successfully bring their product to market.
The Grill Canopy
4335 19st NW Calgary AB, T2L2B8 http://www.thegrillcanopy.com
Contact: Matt Chaplin (403)829-5506 Matt(at)TheGrillCanopy(dot)com