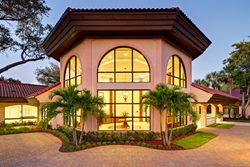 Fifty-nine percent of family caregivers have jobs in addition to caring for another person.
Boca Raton, Florida (PRWEB) July 25, 2014
In recognition of its aggressive commitment to ease the burden on family caregivers with loved ones at Regents Park Boca Raton, the facility received the national Today's Caregiver Magazine's 2014 Caregiver Friendly Award for long-term skilled nursing facilities.
Regents Park Boca Raton was the only facility in Florida to earn the award, and just one of three nationwide to be acknowledged. Regents is a 180-bed nursing home specializing in short-term and long-term care. It is located at 6363 Verde Trail, Boca Raton, FL and has been family owned and independently operated since 1991.
Caregiver Friendly® Awards are presented by Today's Caregiver magazine to celebrate outstanding books, media, products and services designed with the best interest of the family caregiver in mind. Among the services that earned Regents Park the award was its launch earlier this year of healing touch sessions at the facility for family caregivers. The relaxation sessions are conducted by a certified professional from the Aloesea Caregiver Program. There is no limit on how many sessions family members can receive.
Healing touch is offered in more than 25 hospitals in the United States. Regents Park Boca is the only skilled nursing and rehabilitation center to offer it locally.
"The burden on family members is unbelievably stressful," said Leslie Curtis, Regents' business development director who initiated a specific program to help caregivers. "They're usually middle-aged or older, and a lot have their own health issues to deal with — never mind jobs and many other responsibilities. It's exhausting for them and we see the impact it has every day. The Catch-22 is that family members are critically important in helping us optimize their loved ones' recovery, so we feel not only sympathy but a responsibility to help reduce the stress for those family members any way we can."
Curtis noted that Regents Park Boca Raton's caregiver program goes beyond healing touch sessions. Other components include:

Encouragement to actively participate in care plan meetings with the facility's professional team and observe or even take part in a therapy session;
Join their loved ones for meals and social activities;
Voluntary involvement in weekly support groups, including the Alzheimer's Association's Caregiver Support Group.
Working with social workers and therapists to learn therapeutic techniques that might be applicable upon a resident's discharge.
Availability of free Wi-Fi, especially necessary for family members who often spend many hours at Regents Park but likewise have to continue working.
"The average caregiver is responsible for over $40,000 in health-related expenditures each year, in either personal or directed funds," noted Gary Barg, Today's Caregiver magazine's editor-in-chief. "This award is designed to help family caregivers recognize and reward those organizations who will care for them in as committed a manner as they care for their loved ones."
Regents Park Boca Raton is a 180-bed skilled nursing and rehabilitation facility that specializes in short-term and long-term care. It is located at 6363 Verde Trail, Boca Raton, FL and has been a family owned and independently operated facility since 1991.