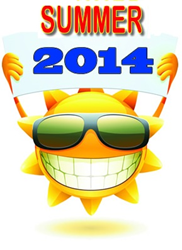 Mid Summer Sale - 7% Off all orders
Elmsford, NY (PRWEB) July 25, 2014
New York based Eye Care Associates is in its 15th year in business online as the operator of CleContactLenses.com and Shopcle.com. Both websites are online e-tailers that provide contact lenses, contact lens removers, contact solutions and other items that are eye care related. Both websites are supervised by a team of eye care professionals, Ophthalmologists, Optometrists, and Opticians to best service their patients' needs and questions.
Now that summer is full swing, Eye Care Associates is offering a mid summer sale of 7% off any contact lens, solution or rewetting drops purchase when using the following coupon code 821677831 at either clecontactlenses.com or shopcle.com. PJ the Online Marketing Manager said, "You read that right… Save 7% off all contact lens, solution and remover orders placed on our website clecontactlenses.com and shopcle.com all weekend long. You name it we have it all from Acuvue, Optimum Lobob, Menicon Menicare, Boston to Complete."
The purpose of this mid summer sale is to help contact lens wearers stock up now that they will be in and out of the pool or ocean water. During the summer season contact lens wearers need to clean their contact lenses more often as well as rewetting their contact lenses due to pollen in the air, chlorine and salt water. By rewetting the contact lenses and soaking them more often, this helps improve ocular health with greater eye hydration.
Note that every contact lens solution and rewetting drop was not created for the same purpose or contact lens material. For example the Optimum Lobob and Menicare by Menicon contact lens solution is intended for rigid gas permeable contact lenses. Now Eye Care Associates would not recommend either Optimum Lobob or Menicare for someone that wears soft contact lenses as this can damage the contact lens and potentially lead to damaging the cornea.
As one can see and any contact lens wearer can attest, having the appropriate contact solution and rewetting drops during peak allergy season is a must have. Now with the first weekend of summer fast approaching, many will be spending more time outdoors either swimming in the pool or going to the beach. Now with the element of chlorine or salt water can also cause havoc on contact lenses. In the end the 7% off promotion Eye Care Associates is providing is an offer that any contact lens wearer should not pass up because the coupon code is only good until July 27th 2014. With the money one saves during thisMid Summer sale, more food and beverages can be added to that BBQ party.
Eye Care Associates is based out of Westchester County, NY and has offices in New York City and Mahwah NJ. CleContactlenses.com and ShopCLE.com have been in business online for the last 15 years selling Acuvue contact lenses, contact lens removers, contact solutions, eye vitamins, designer frames and sunglasses and all things eye care related.