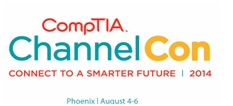 ChannelCon is the IT channel event of the year.
Nashville, TN (PRWEB) July 25, 2014
Provincial Development Group, Inc. today announced that its president, Blain Wease, will be presenting at CompTIA ChannelCon 2014, the premier partnering and training event for IT vendors, distributors and channel partners, Aug. 4-6 in Phoenix, Ariz., at the JW Marriott Phoenix Desert Ridge Resort and Spa.
Blain's address will take place Monday August 4th, from 9 a.m. to 5 p.m. at the JW Marriott Desert Ridge Resort. He joins a five-star lineup of executive speakers and industry influencers including Todd Thibodeaux, president and CEO, CompTIA and ChannelCon Keynote Lisa Bodell, best-selling author and founder and CEO of futurethink, an award-winning innovation firm that helps businesses embrace change and become world-class innovators. Chiefs of the IT channel speaking at ChannelCon also include Doug Erickson, vice president, worldwide partner programs and development, Juniper Networks Inc.; Dave Maffei, vice president, global channel sales, Carbonite; Brooks L. McCorcle, president, emerging business markets, AT&T Services Inc.; and Jeff McCullough, vice president, worldwide channels organization, indirect RTM and SMB segment, Hewlett-Packard Company. Follow Provincial Development Group, Inc and CompTIA ChannelCon via Twitter using hashtag #channelcon.
Attended by the "who's who" in the IT channel, CompTIA ChannelCon 2014 is one of the IT industry's most popular and rewarding partner and training events. It's also the first CompTIA event to welcome the participation of more than 9,000 new registered users now engaged with the IT association under its new open access model which launched earlier this year.
"The IT space is in a tremendous season of opportunity and transition," says Wease. "I look forward to discussing tangible ways of navigating transformation and transition with business leaders who are walking through (suggestion as use of "navigating" twice is a bit repetitive) these waters in real time."
"ChannelCon is the IT channel event of the year, making it a great platform for speakers to share their insights and experience with hundreds of the industry's most progressive and innovative minds," said Kelly Ricker, senior vice president, events and education, CompTIA. "We're thrilled to have Provincial Development Group, Inc.'s President Blain Wease speak at ChannelCon."
To learn more about Provincial Development Group, Inc., visit http://www.provincialdevelopment.com, https://www.facebook.com/provincialdevelopmentgroup and follow @blainwease on Twitter.
Follow all the activity around ChannelCon on Twitter via the hashtag #channelcon. Visit ChannelCon Registration and CompTIA Membership to learn more.
About CompTIA
CompTIA is the voice of the world's information technology (IT) industry. Its members are the companies at the forefront of innovation; and the professionals responsible for maximizing the benefits organizations receive from their investments in technology. CompTIA is dedicated to advancing industry growth through its educational programs, market research, networking events, professional certifications, and public policy advocacy. For more information, visit CompTIA online and on Facebook, LinkedIn and Twitter.
About Blain Wease & Provincial Development Group, Inc
Blain Wease is the Founder & President of the Provincial Development Group, Inc., a Nashville based professional services firm that partners with small to mid sized companies, to help drive stronger revenue performance, by placing senior level executives on a fractional and interim bases. Blain has served in a wide variety of professional roles, beginning as an entry-level sales associate, to becoming a senior level executive, to ultimately becoming an entrepreneur. Regardless of the position, or title, the consistent theme has been growing profitable revenue, in a healthy sustainable manner. In addition to the direct client work that he delivers, he is a frequent speaker at various conferences and events. He is also the founder and host of the Nashville Leadership Luncheon, an event that is held twice a year in partnership with the Nashville Predators and Bridgestone Arena, for entrepreneurs and business leaders.
Blain was born and raised outside of Toronto, Canada, he is married to Shaloma and they have four children. Their family resides in beautiful Franklin, TN.