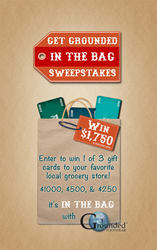 We wanted to find a promotion that would have national appeal, while also keeping it as local as possible. By giving our winners the option to choose their favorite local locations, we are able to do that. – Justin Donoghue, Managing Director
Key West, FL (PRWEB) July 30, 2014
Get Grounded Footwear™, creators of the first and only fully-grounded footwear line on the market today, are giving the gift of free groceries to three selected winners. This fall, the Key West-based footwear company will award three individual gift cards ($1000, $500 and $250) to three separate winners who will have their choice of when and where to purchase their groceries. Following up on their "Fully-Grounded, Key West Getaway-Giveaway" contest, the company wanted to create a promotion that would speak to everyone, and let's face it, who doesn't want free groceries?
Grounding, or Earthing, is the natural practice of (re)connecting the human body to the Earth. By doing so, you absorb a subtle and organic energy in the form of negatively charged free electrons. Get Grounded's fully-grounded footbed allows for continuity and an unlimited supply of Earth's energy when in direct contact with any conductive surface. Simply put, it's a shoe with a purpose. Customers who purchase Get Grounded Footwear's Groundals® between now and October 7th, 2014 will automatically be entered for a chance to win.
To learn more about Get Grounded Footwear™ and to enter the "In the Bag" Sweepstakes, please visit http://www.getgroundedfootwear.com. No purchase is necessary to enter; for additional rules and regulations, visit http://www.getgroundedfootwear.com/sweepstakes.