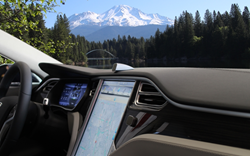 Chicago, IL (PRWEB) July 24, 2014
Not only for Tesla Automobiles, but the Neutron S and Neutron A phone holder mounts sure are perfect for such a fine automobiles as Tesla Motors.
Neutron S and Neutron A is a new Kickstarter project by Bungajungle aimed to bring hands free use of phone, tablets and GPS in cars and just about anywhere. The Neutron S is really versatile. The Kickstarter project shows that is can be used to mount just about anything anywhere.
The Neutron S mount is the second generation of the already successful Neutron S campaign from earlier in the year. The new mount boasts a new anodized aluminum deep space grey with chamfered edges, and the front silicone pads can be interchanged for different colors. This makes it ideal to match the aesthetics of you phone such as iPhone, HTC, or Samsung and your cars, such as a Tesla, Mercedes, BMW etc.
The project is set out to raise $50000, of which it has already raised $12000 in the first 3 days.
If you're looking for the best functional and most beautiful phone holders and mounts on the market, Neutron S and Neutron A definitely can't be beat.