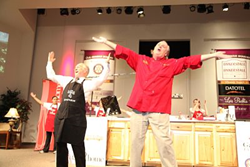 Galena, IL (PRWEB) July 29, 2014
Join culinary specialist and TV star Guy Klingzing, September 25, as he provides you with step-by-step instructions on how to create satisfying and flavorful dishes during a two hour show. "From experienced home chefs to beginners learning their way around the kitchen, the Taste of Home Cooking School offers something for everyone – putting a fresh spin on old favorites and adding new recipes to your seasonal repertoire," he says. Guy Klingzing is one of the culinary experts at the Taste of Home Cooking School, America's leading cooking school program. He also can be seen on the History Channel's popular series "Modern Marvels" as well as on the Food Network's series "Unwrapped" dealing with his favorite topic- chocolate!
Taste of Home Cooking School has approximately 250 events across the country each year. This they will be visiting Galena on September 25, 2014. In addition to all of the scrumptious recipes you will learn, everyone in attendance will receive a free gift bag with all sorts of goodies inside. There are also opportunities to register for door prizes and other giveaways.
Doors open at 4:00 pm with a Pre-Show Expo at 4:00 pm. The main event starts at 7:00 pm. The event will take place at the Galena Convention Center which is located at 900 Galena Square Drive. General admission tickets are $15.00. VIP tickets are $20.00 and include reserved seating as well as a Meet & Greet with celebrity chef, Guy Klingzing. Tickets can be purchased online by visiting http://www.galenaevents.simpletix.com/event-list/ or by going to Tammy's Piggly Wiggly in Galena at 997 Galena Square Dr. Come join us and let Taste of Home make you the star of your kitchen.
For more information, visit http://www.TasteofHome.com/Cooking-Schools. Or visit the Galena Taste of Home Cooking School Facebook page at https://www.facebook.com/tasteofhomegalena.