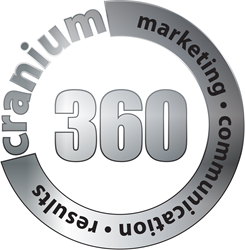 Grand Junction, Colorado (PRWEB) July 25, 2014
ColoradoBiz Magazine, the state's preeminent business publication, has named Grand Junction's Cranium 360 as one of Colorado's top three marketing agencies in 2014.
Since its inception in 1988, the Top Company Awards competition has selected businesses that display innovation, dedication to excellence and sustained success. The magazine recognizes small, independent companies and multi-billion dollar businesses under the same criteria: the ability to differentiate themselves in a saturated market and to deliver lasting value to clients and consumers.
Each year, ColoradoBiz selects three finalists from 13 market categories including Manufacturing, Health Care, Technology and others, often from over 100 applicants across the state. Cranium 360 now stands as a top three finalist in the Media/Advertising/PR category.
"We are very excited to be recognized as one of the top three marketing agencies in Colorado," said the company's owner, Matthew Breman. "We really focus on the quality of services we offer and the value we bring to our clients. Competing with agencies in larger markets while living on the Western Slope is sometimes challenging, but we thoroughly enjoy all the Grand Valley has to offer."
ColoradoBiz Magazine's primary mission is to inform and educate the region's business professionals about the issues, people and management trends at the forefront of influencing economic conditions in Colorado and the west.
About Cranium 360: Cranium 360 is an award-winning, full-service marketing agency dedicated to providing clients with strategic solutions. The company commits itself to telling each business' story and delivering what it deserves: results. Cranium 360 partners with the United Way of Mesa County and other area nonprofits to support western Colorado's growing business culture and its emphasis on community involvement.