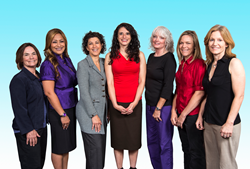 All of us at Women's OB/GYN Medical Group are excited to officially join NCMA, an organization that truly makes it easier for private medical practices to optimize their services for patients. -Dr. Lela Emad
Santa Rosa, CA (PRWEB) July 27, 2014
In keeping with its goal of providing Northern California with a comprehensive network of state-of-the-art health services from leading specialists in a full-spectrum of medical fields, NCMA is proud to welcome Women's OB/GYN Medical Group to its ever-growing practice. For nearly 25 years, Women's OB/GYN Medical Group has offered a comprehensive selection of premier obstetrics and gynecology services to women in the North Bay Area. An all-women practice, Women's OB/GYN Medical Group has fostered a safe, comfortable environment for women where practitioners fully comprehend patient needs and expectations. The practice offers an elite team of doctors, midwives, nurses, and medical assistants that coordinates care to provide unmatched OB/GYN health services to its patients.
Women's OB/GYN Medical Group's four elite physicians include Lela Emad, MD, Susan Logan, MD, Amita Kachru, MD, and Shazah Khawaja, MD. The doctors at this practice share in the whole-body care philosophy, meaning that they always strive to find the underlying causes of a woman's health problems rather than simply treating the symptoms. Between the four of them, Drs. Emad, Logan, Kachru, and Khawaja carry specialty expertise in minimally invasive laparoscopic surgery, uro-gynecologic procedures, as well as general obstetrics and gynecology care.
The providers at Women's OB/GYN also offer pregnancy care in collaboration with certified nurse midwives (CNMs). CNMs are specially trained in providing healthcare to pregnant women from conception through labor and delivery. Many women opt to have CNMs serve as their primary healthcare providers during pregnancy. Maximizing the birth experience and the health of newborns and their mothers is a CNM's primary goal for pregnant patients. Achieving this goal requires expert knowledge about the gestation period and birthing process, as well as heightened empathy between providers and their patients. By working in close collaboration with the practice's physicians, Women's OB/GYN CNMs serve as the perfect health resource for pregnant women whom prefer to involve the personal touch of a midwife during their pregnancies.
Dr. Lela Emad, a board certified OB/GYN who first started Women's OB/GYN Medical Group in 1990, explains, "I have always found NCMA to be a reliable referral source for my patients over the years, and it has been a pleasure working with and getting to know many NCMA doctors—some of whom have been in the area even longer than myself. All of us at Women's OB/GYN Medical Group are excited to officially join NCMA, an organization that truly makes it easier for private medical practices to optimize their services for patients."
Women's OB/GYN Medical Group, located at 500 Doyle Park Drive, Ste. 103 in Santa Rosa, is currently accepting new patients. From pregnancy, menopause, minimally invasive surgery, incontinence, and regular gyn and breast health screenings, the team of health professionals at Women's OB/GYN is committed to both alleviating patient ailments and maximizing patient long-term health. Visit http://www.womensobgynmed.com for more information on the practice's services and providers.
To start care with a knowledgeable OB/GYN physician who will always treat you with compassion and expertise, call (707)-579-1102 to schedule an appointment today.
—
Northern California Medical Associates is the premier provider of medical and surgical care north of the Golden Gate and has been serving individuals and families since 1975. In addition to OB/GYN health services, NCMA offers exceptional care in cardiology, cardiovascular/thoracic surgery, internal and family medicine, urology, vascular surgery, endovascular surgery, orthopedic surgery, general surgery, rheumatology, podiatry, pulmonology, ophthalmology, and otolaryngology (ear, nose, and throat). Every highly skilled professional comprising the NCMA team shares a strong commitment to preventive programs and health screening designed to promote and maintain everyday health. NCMA has successfully built a legacy of excellence that is recognized nationwide.
For a complete listing NCMA services and physicians in Sonoma, Mendocino, and Lake Counties, visit NCMAhealth.com.