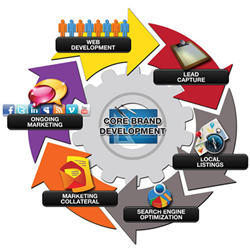 Our PowerCORETM Marketing System allows us to adjust and monitor our client's services to give them any level of marketing support they need.
Safety Harbor, FL (PRWEB) July 28, 2014
P3 has served clients in the Tampa Bay area and around the world for 24 years. They are excited to share their innovative PowerCORE™ system, which offers a blueprint for small & medium sized businesses to make a dramatic difference in their marketing efforts.
P3 noticed that many businesses had something missing from their marketing strategy. This is where the PowerCORE™ system has filled the gaps. The P3 Team broke down the marketing system into 7 critical parts:
1. The system revolves around the core Brand Development, which is the brand image designed specifically to portray the DNA unique to the company's vision and mission. The brand builds the relationship to the company's market sector. The brand integrity is maintained in all their marketing collateral and communications.
2. Web Development conveys the brand image and information through a streamlined and visually appealing, responsive, optimized website design.
3. Lead Capture collects contact information of potential clients through the updated website and then automatically delivers timed, targeted messages designed to convert new business.
4. Utilizing Local Listings attract the largest percentage of potential customers. 97% of all consumers search for local listings. Local search revenue is surging and by 2015, local search revenues are estimated to top $8 Billion. (Marketing Sherpa)
5. Search Engine Optimization is strategically implemented to positioned and enhance the rankings of the client's website in popular search engine, like Google and Bing.
6. Marketing Collateral communicates products and services through various multi-media platforms and print design. Mixing traditional and new media ensures that everyone in their target audience is reached, which produces more leads and new business.
7. Ongoing Marketing Services continually promotes current and upcoming marketing efforts through social media, public relations and advertising.
By breaking down the marketing system into 7 steps, P3 has made it easier for businesses to understand how to maximize their marketing efforts. The PowerCORE™ system takes the guesswork out of marketing and saves companies time and resources, allowing them to concentrate on running their business.
Sean McKeon, CEO of The P3 Agency explains, "Our PowerCORE™ Marketing System allows us to adjust and monitor our client's services to give them any level of marketing support they need. Traditional marketing plans only analyze the data at the beginning and end of a campaign. The PowerCORE system analyzes data at each step making it easier to improve the marketing strategy."
To learn more about P3's PowerCORE™ system or other marketing services call 1-800-515-9422 or visit their website at http://www.p3-agency.com.
P3 is a full service global marketing and business development agency focusing on brand image and marketing effectiveness by creating professional brand components, powerful and engaging websites, dynamic print and advertising collateral, and innovative marketing strategies.