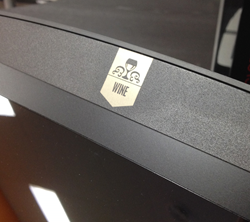 Laser engraving provides our clients a cost effective solution to customize and brand any faceplate cover on our full line of tablet enclosures and stands
Waterloo, ON (PRWEB) July 25, 2014
"Laser engraving provides our clients a cost effective solution to customize and brand any faceplate cover on our full line of tablet stands and enclosures", says Iles Guran, Founder & President. "The laser engraving process etches away the powder coating or paint on the faceplate cover, exposing the bare metal underneath, giving a very sophisticated look. Although the laser can create only a one color effect, the sharp lines and clean artwork that the process produces is phenomenal for small trademark or identification applications.
Pricing for laser engraving starts at $10 per application on any tablet stand, contact Armodilo Display Solutions for full pricing details and availability.
About Armodilo Display Solutions
Armodilo Display Solutions is a multiple award-winning tablet enclosure and tablet stand manufacturer located in Ontario, Canada. With a variety of tablet display stands and accessories for trade show, event, retail and corporate markets, Armodilo sets itself apart by creating highly refined products for discerning brands around the world.
For more information about Armodilo, contact:
Iles Guran Founder & President
Armodilo Display Solutions
1-800-975-5946