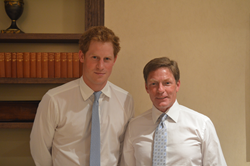 Rockville, MD (PRWEB) July 24, 2014
Fisher House Foundation, which provides comfort homes for military and veterans' families, is proud to announce its sponsorship of the Invictus Games presented by Jaguar Land Rover – an inspirational sporting event that will bring together wounded warriors from the armed forces of 14 countries to compete in a range of adaptive sports.
The Games, which are championed by Prince Harry, take place in London from Sept. 10-14. Over four hundred wounded, injured, and sick servicemen and women will compete at world-class venues in the Queen Elizabeth Olympic Park. The sports include track and field, wheelchair basketball, sitting volleyball, swimming, cycling, powerlifting, archery, indoor rowing, and wheelchair rugby as well as a driving challenge presented by Jaguar Land Rover.
"This is taking Fisher House support one step further," said Ken Fisher, Chairman and CEO of Fisher House Foundation. "We help service members, veterans and families as they transition through medical care, now we can help them transition into an exciting and rewarding life. We are extremely proud to be involved."
The Invictus Games will highlight the incredible skill, bravery and determination of those that serve in the armed forces across the world. The Games will not only bring greater public awareness and support for what these men and women do on a daily basis, they will use the power of sport to inspire recovery, support and rehabilitation.
In Prince Harry's first tweet about the Games he wrote, "Hope everyone will get behind #invictusgames. Great opportunity to support and thank the men and women who have given so much. Harry"
The Opening Ceremony takes place on Sept. 10 at the Queen Elizabeth Olympic Park in London. Fisher House Foundation is also supporting US athletes by providing team uniforms and flying family and friends to London in support of their loved ones, reinforcing Fisher House's belief that "a family's love is good medicine."
"The word 'Invictus' means unconquered," said Fisher. "What better word to use to describe these dedicated men and women who have overcome life-changing obstacles. These are men and women from countries who served together on the battlefield, and will have the opportunity to be reunited in recovery. We look forward to a competition that will be both friendly and intense and nothing short of inspirational."
About Fisher House
Fisher House Foundation is best known for a network of comfort homes where families can stay at no cost while a loved one is receiving treatment. These homes are located at major military and VA medical centers nationwide, close to the medical center or hospital it serves. Fisher Houses have up to 21 suites, with private bedrooms and baths. Families share a common kitchen, laundry facilities, a warm dining room and an inviting living room. Fisher House Foundation ensures that there is never a fee. Since inception, the program has saved military and Veteran families an estimated $200 million in out of pocket costs for lodging and transportation.
Fisher House Foundation also operates the Hero Miles Program, using donated frequent flyer miles to bring family members to the bedside of injured service members as well as the Hotels for Heroes program using donated hotel points to allow family members to stay at hotels near medical centers without charge. The Foundation also manages a grant program that supports other military charities and scholarship funds for military children, spouses and children of fallen and disabled Veterans.