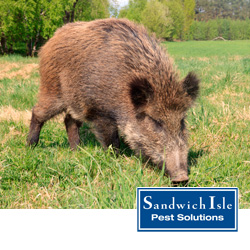 Feral pigs are destructive and dangerous. They forage through any type of ground cover, often digging up the ground in search of tree and plant roots.
Honolulu, Hawaii (PRWEB) July 29, 2014
Living in paradise is a reality for any who call Hawaii home. The Hawaiian islands are some of the most beautiful places on earth. Paradise has a few downfalls though. Dealing with destructive and dangerous wildlife is one of those few downfalls. Birds, feral pigs, chickens, and cats are among these wildlife animals. They aren't respectful of the boundaries between the forest and our homes and businesses. Usually on the look out for food, shelter, water and warmth, these nomads will make anyplace their home or feeding area.
Keeping wildlife away from our homes and businesses can be tricky work. It is never a good idea to try to handle or deal with a wild animal by yourself, especially if it is trapped and feeling threatened. When confronted with a wildlife problem, you should always call a trained professional for help. Thankfully, however, there are a few tips we would like to share to help you prevent the threat of wildlife animals on your property.
Feral pigs are destructive and dangerous. They forage through any type of ground cover, often digging up the ground in search of tree and plant roots. This will kill the plants and trees, as well as interrupt the natural ecosystem that is in place. Water will collect in these low foraging spots, providing more breeding ground for mosquitoes. Mosquitoes carry viruses and diseases that not only affect humans but can kill off some of the endangered native Hawaiian birds. These four legged rototillers have been know to be aggressive and will defend themselves, as well as attack. Controlling them is crucial to maintaining Hawaii's beautiful paradise status...but this should only be done by a professional.
Feral cats will find homes in old barns, cars, under mobile homes or in sheds. They mate and procreate quite rapidly. Even though they appear to be soft and cuddly, remember that they are not. They are a wild animal that does not generally trust humans. Often these trespassing felines will forage through trash looking for food.
Feral chickens and other pest birds will forage anywhere. While one would think that they are just eating up insects and bugs; that isn't correct. Chickens will also try to find an easy meal by heading into your garage, shed or any other place that may provide a food source. Pigeons are damaging to roofs and other areas that they choose to roost on. They are known to damage outside lights and electrical service entries. Pest birds can also spread disease and virus ridden waste in their wake.
Tips for control:

We suggest keeping all trash in sealed containers and regularly remove it from your property.
Keep pet food and water dishes inside.
Have a professional install bird deterrents on your business' signage and other popular bird roosting sites before you find yourself with a full blown bird infestation.
Sign up now for a year round pest control service so that you can have the help of professional before things get out of hand with wildlife or any other pests for that matter.
Despite our knowledge of these pests, Hawaiian wild animals continue finding their way into homes and businesses. Keeping them away is crucial which is why contacting a pest control professional, like Sandwich Isle Pest Solutions, is the safest and most successful way to rid yourself of unwanted and trespassing wildlife. We offer animal control services to protect your home, family and business from the negative effects that these nuisances can have. We utilize such measures as:
Shock tracks
Bird spikes
Bird wire
Ovocontrol
Netting
Humane trapping
Remember, if you find that you are facing an issue with the wild side of Hawaii encroaching on your home or business, don't try to handle it yourself. Instead, click here to learn more about the animal control options at Sandwich Isle Pest Solutions.
###
Sandwich Isle Pest Solutions is based out of Pearl City, HI, on the island of Oahu. For more information about Sandwich Isle Pest Solutions and their animal control services, visit http://www.sandwichisle.com.