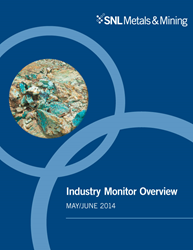 (PRWEB) July 29, 2014
The Pipeline Activity Index (PAI) recovered somewhat in May after an all-time low in April, although it dropped back slightly in June. The May uptick was mainly due to improved numbers of positive milestone announcements—including several new mines coming onstream—as companies continue to focus on later-stage assets at the expense of earlier-stage prospects. With the gold price appearing steady at $1,300/oz and strengthening base metals prices and forecasts, conditions appear to be ripening for a recovery in the exploration sector. However, the historical slowdown during northern summer months means the December quarter is likely the earliest that we will see any significant upward movement in the PAI.
The industry's aggregate market cap improved for the sixth month in a row, reaching $1.75 trillion, a 20% increase over December 2013 and the highest level since January 2013.
The number and value of positive milestone announcements increased significantly in May-June from the lows seen in the first four months of 2014. The in-situ value of advancing gold announcements was considerably higher than in the March-April period, including production starting at several mines. Base metals announcements also increased over March-April; however, the number of advancing base metals project remained well below historical averages.
The largest positive announcement was from Newcrest Mining's Cadia East gold mine in New South Wales, which was officially opened in May. At full capacity, Cadia East will produce 250,000 oz/y of gold and 15,000 mt/y of copper. The largest negative announcement was for the Kansanshi copper mine in Zambia, where First Quantum will reportedly slow or postpone additional spending on an in-progress expansion due to uncertainty over Zambia's fiscal regime.
For access to the complete Industry Monitor click here. Or for more information about SNL Metals & Mining services, visit http://www.SNLMetals.com.
About SNL Metals & Mining:
SNL Financial first entered the Metals & Mining sector with the purchase of Metals Economics Group in 2012. Now, with the acquisition of IntierraRMG, another leading mining intelligence provider, we have reaffirmed our commitment to providing the global mining industry with a one-stop source for accurate and complete information to support better decision-making. The new combination – SNL Metals & Mining – provides data, analysis and news coverage from worldwide exploration, claims, development, and production to strategic planning and acquisitions activity.