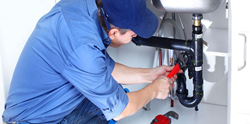 The primary focus of our company is to provide our services 24/7 when people need a plumber the most.
Clifton, New Jersey (PRWEB) August 06, 2014
Jersey Home Renovations, with locations in Clifton and Wayne, New Jersey has turned its focus to plumbing, heating and cooling services. These services will be available 24 hours a day, 7 days a week and during emergencies.
Leaks, clogged drains and frozen pipes are very annoying and inconvenient and depending on how severe the problem is, it can cause damage to your home or business. With the latest sewer line and drain cleaning camera equipment and research, it allows the company to inspect everything.
"The primary focus of the company is on the customers who need a plumber immediately while a problem is happening," said Vinny, owner of Jersey Home Renovations & Plumbing. "The more we expand our service territories, the more people we can please. And the fact that we are available 24 hours a day and 7 days week, as well as weekends, we are able to be available to do that." Vinny has helped many homeowners in Clifton, NJ and Wayne, NJ area as well as the surrounding areas and counties.
For more information on Jersey Home Renovations and how they can help you in the future, call (973) 224-8605 or go to http://www.jerseyhomerenovations.com.