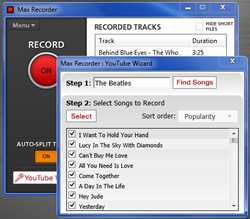 Max Recorder is a dream come true for music listeners. You just enter a band name and it automatically records all their top songs to MP3s or to iTunes, said Jeff Green, Max Recorder Marketing Manager.
Cheyenne, Wyoming (PRWEB) July 25, 2014
The Max Recorder 2.0 product provides a powerful new music acquisition option to music listeners by allowing them to enter virtually any band name (over 250,000 artists are supported) and see a list of all their songs ordered by popularity. The user then selects the songs they want and Max Recorder automatically plays and records them, either as MP3 files or directly into iTunes.
Since Max Recorder does recording instead of downloading; it's fully legal for personal non-commercial use as it's compliant with the home recording rights specified in the Audio Home Recording Act.
Max Recorder also gives very high audio quality, unlike YouTube downloading products which limit quality due to bandwidth considerations.
Max Recorder utilizes the powerful ExploreMatch music recommendation engine for artist and song list queries. In addition to full coverage of domestic artists, Max Recorder also provides extensive coverage of international artists which is unmatched by other services and products.
Max Recorder 2.0 is available for Windows versions 8.1, 8, 7 and Vista and is available for download at http://www.MaxRecorder.com .
Max Recorder was developed by Silver Vine, LLC. Silver Vine is dedicated to providing high quality multimedia products that enrich the lives of users throughout the world