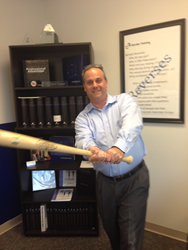 This session has proven to be one that attendees can take immediate action and put ideas right into practice. - David Trapani
Princeton, NJ (PRWEB) July 31, 2014
Sales Training Firm, AGT & Associates Inc., a licensed Sandler Sales Training Center, will hold a workshop - "Unleash The Prospecting Power of LinkedIn". This session will be offered on Thursday August 21st at noon and will conclude at 2:15pm. Those in attendance can expect to pick up a few ideas on how to use LinkedIn to its potential when it comes to prospecting.
"LinkedIn is a tool that business development specialists have come to use to help prospect for new opportunities, said David Trapani, CEO AGT & Associates Inc. We plan to give those users a few ideas to help with the process."
The program is open to individuals that are in high level sales & business development positions. The program is not industry specific and the expectation is that we will have attendees from traditional selling roles as well as professional services organizations. The program will start at noon with a light lunch. There is a $135 investment for the program.
"We hear too many salespeople question how can they use LinkedIn more effectively? We definitely have an answer for those looking to learn more", added Trapani.
Attendees will be asked to bring laptops or tablets to make enhancements and access their LinkedIn profile. Users will also be given a white-paper - "Ten Ways to Prospect Using LinkedIn More Effectively".
About AGT & Associates Inc.
AGT & Associates, Inc. is an award winning authorized Sandler Sales Training Center in Princeton, NJ. AGT & Associates Inc. bring over 23 years of sales, marketing and management experience. Their focus is to help sales people and sales managers gain an edge to move their business to the next level. As a Certified Sandler Trainer, they teach their clients in the Sandler Success beliefs of Behavior, Attitude and Technique.
About Sandler Training
David H. Sandler developed the Sandler Selling System® methodology, an innovative, non-traditional selling system, in the late 1960s, and created the concept of "reinforcement training" to support it. From that foundation, he went on to create a series of proven sales training programs for small- and mid-sized companies and Fortune 500 corporations, and founded the Sandler Sales Institute®.