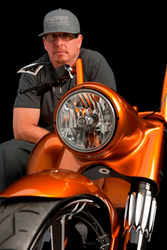 Eustis, FL (PRWEB) July 24, 2014
The 20th Annual Bruce Rossmeyer Ride for Children is proud to announce Paul Yaffe, founder of Bagger Nation, will be the Grand Marshal this year. This weekend event, presented by Hamlin & Associates, JM Family Enterprises, Inc. and JM&A Group, will be held on October 5th and 6th.
All funds raised will benefit Camp Boggy Creek, serving children with serious illnesses and their families by making it possible for them to experience the adventure of camp in an environment capable of meeting their medical needs, at no cost to their families.
The Accelerating Dreams of Children gala will be hosted Saturday night at Destination Daytona. On Sunday, over 700 riders will take a police escorted ride led by Grand Marshal Paul Yaffe from Destination Daytona in Ormond Beach to Camp Boggy Creek in Eustis. Once there, participants will enjoy a complimentary lunch provided by Outback Steakhouse, music, and silent and live auctions. Yaffe's support of the organization is greatly appreciated by both Camp Boggy Creek and the Rossmeyer family.
Mandy Rossmeyer Campbell, daughter of the late Bruce Rossmeyer, says, "We are so thrilled to celebrate the 20th year of the Ride for Children. My dad loved this Camp and what it stands for, and to have world-renown bike builder and enthusiast Paul Yaffe with us means so much. I know we'll have a great turnout."
For more information or to register for the ride, visit rideforchildren.com.
--------
About Camp Boggy Creek
Founded in 1996, Camp Boggy Creek is a year-round medical camp for children with serious illnesses. Co-founded by actor/philanthropist Paul Newman and General H. Norman Schwarzkopf, the camp offers week-long summer sessions and family retreat weekends at no charge to the children or families. Located in Eustis, Florida, the 232-acre nonprofit serves children ages 7–16 that have been diagnosed with chronic or life-threatening conditions. The camp is entirely funded by generous donations from individuals, corporations, foundations and healthcare partners. Camp Boggy Creek is a proud member of SeriousFun Children's Network. Learn more by visiting campboggycreek.org.