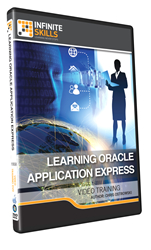 Learn Oracle Application Express at your own pace
(PRWEB) July 25, 2014
Software training firm Infinite Skills Inc. this week released its Learning Oracle Application Express Tutorial, a fundamentals course designed to help experienced Oracle users begin developing web-based applications using Oracle's primary development tool for SQL and PL/SQL .
Oracle Application Express (Apex) is a free development environment available on its own or included with Oracle Database. Oracle Apex is Oracle's primary tool for development with SQL and PL/SQL. It is designed to produce Oracle-driven applications that run on basic web standards, allowing access from any browser. The framework limits the services available on Apex applications, but also provides a convenient way for database administrators to develop and distribute their own applications.
Infinite Skills' Learning Oracle Application Express Tutorial is designed to get administrators up and running with this useful tool, explaining the major features and skill sets for creating custom web applications.
Learning Oracle Application Express Tutorial - Streaming
Course author Chris Ostrowski has been working with Oracle technologies for more than twenty-five years. He is currently an Oracle Solution Architect Director at Avout, where he is responsible for designing, architecting, and implementing technical solutions using Oracle. He has been a contributing author for Oracle publications, including Oracle Applications Server 10g Web Development, and Oracle Application Server Portal Handbook.
Ostrowski begins by providing an overview of the Apex architecture and key features. He guides users through the download and installation process, and gives a detailed explanation of its navigation, workspaces, and security features.
The course then covers the basics of Apex applications, explaining the different types of applications, how to create a new app, and looks in detail at how to use the Apex wizards and render pages.
The course then goes in-depth with creating forms, reports, charts, and other features for inclusion in an Apex web app.
Closing chapters look at creating the user interface using templates and themes, creating mobile web apps, along with advanced topics, including security, debugging, and team development.
"This course is designed to get you creating web-based Oracle-driven applications in a quick and secure manner," Ostrowski says. "Students will learn about all major components of Oracle APEX."
"Anyone who's working with Oracle and wants to create their own web-based applications will find the combination of Oracle APEX and Infinite Skills' training essential."
Free demo videos and a full list of course contents can be found on the Learning Oracle Application Express Tutorial training page on the company website.
http://www.infiniteskills.com/training/learning-oracle-application-express.html
Infinite Skills offers its Learning Oracle Application Express Tutorial either as a DVD or a direct download from the company website at a retail price of $99.95, or as part of its subscription streaming service available at a rate of $25 per month. Though the compatibility of programs varies, all Infinite Skills titles and formats work on both Mac and Windows operating systems, and shipping is available around the globe. Additionally, Infinite Skills tutorials are supported by project files which correspond to examples in the videos.
About Infinite Skills Inc.
A leader in the field of software training, Infinite Skills designs its courses on a task-oriented model, teaching complex skills by providing hands-on examples and guiding users as they carry out essential functions. Infinite Skills offers a wide range of software titles available as DVDs, digital downloads, and in iPad editions. Infinite Skills now offers a subscription service, providing access to all its training content for a monthly fee, keeping with company's aim of delivering professional training to customers anywhere they want to learn.