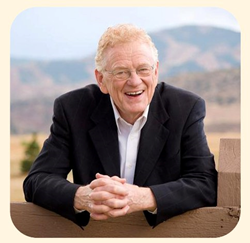 Dr. James W. Jackson is a gifted and sought-after international speaker and storyteller.
Evergreen, Colorado (PRWEB) July 30, 2014
Humanitarian, cultural economist and award winning author, Dr. James W. Jackson will be recording his audiobook "The Happiest Man In the World: Life Lessons From a Cultural Economist." A unique and compelling insight into the life and legacy of a man who found true happiness in relinquishment and selfless service.
Dr. Jackson describes his varied life experiences including: childhood lessons in entrepreneurship, making millions in mountain real estate development, relinquishing his wealth in order to "start over," serving as an international economic consultant, and later, founding the international humanitarian organization, Project C.U.R.E., which delivers donated medical supplies and equipment to developing countries health care facilities.
During a trip to Brazil, Dr. Jackson visited a small clinic near Rio de Janeiro. Once inside he learned that patients were often turned away due to the lack of basic medical supplies and equipment. Dr. Jackson was moved to action and in "The Happiest Man" he takes us on a trip around the world from his garage in Evergreen, Colorado where he first stored surplus medical supplies to Nigeria, Vietnam, North Korea, Myanmar and beyond.
In "The Happiest Man" you will learn how and why Dr. Jackson has devoted the last 25 years of his life, risking his life, while traveling in over 150 countries delivering "health and hope" to the world's most needy people. Told in the first person, there is no one better suited to narrate the personal story than Dr. Jackson. This will be Dr. Jackson's third audiobook recorded at Brook Forest Voices (BFV). For pre-sales information contact the Publisher at BFV.
About Brook Forest Voices: a complete audio production studio located just west of Denver in Evergreen, CO, specializing in audiobook narration, production and publishing. BFV is designed to help large and small publishers, as well as authors, with all their audio needs. Publishers and authors wanting to learn more can visit http://www.brookforestvoices.com or contact Jaime Andrade, BFV Business Manager at 303-670-4145.