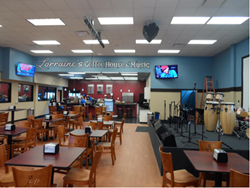 We've been roasting coffee and coaching coffee shop owners for 23 years – as long as Lorraine has traveled the country playing her music. Working together seemed like a perfect fit. - Greg Ubert, Crimson Cup Coffee & Tea
Columbus, Ohio (PRWEB) July 25, 2014
With "That's Kentucky," Bluegrass performer Lorraine Jordan and her band Carolina Road currently have the number-one bluegrass song in the country. And, with the opening of Lorraine's Coffee House and Music at 101 Timber Pointe Lane, the longtime resident hopes to have the number-one coffeehouse in Garner, N.C. The coffee house and live music venue opened June 20, with grand opening celebrations planned for Sept. 10.
"It has been a lifelong dream of mine to have an establishment where the community could come together and mingle in a family atmosphere," Jordan said. "I am hoping this can be everyone's home away from home and become a place to relax and meet and greet while enjoying the artistry of locally and nationally known musicians."
Affectionately known as the "Lady of Tradition" in the bluegrass community, Jordan grew up around bluegrass music on the coast of North Carolina. She has performed bluegrass for over twenty years and formed her band, Carolina Road, in 1998.
A resident of Garner since 1984, she has created an inviting space for neighbors to gather over awesome coffee and a varied musical menu ranging from bluegrass to jazz. A large stage and green room showcase musicians. "I have played music on the road all over the country for twenty-three years," she said. "Now, I want to come home and play in my backyard."
Lorraine's features a full menu of hot and cold espresso-based lattes, mochas and cappuccinos, drip coffee, smoothies and hot and iced tea, as well as locally baked pastries and sandwiches. A drive-thru window caters to coffee lovers on the go.
The professional musician learned the ins and outs of operating a successful coffee house by completing the coffee shop franchise alternative program offered by Ohio coffee roaster Crimson Cup Coffee & Tea. The program has its foundation in the book, Seven Steps to Success in the Specialty Coffee Industry, by Crimson Cup Founder and President Greg Ubert.
"We're thrilled to add Lorraine's Coffee House and Music to our growing community of independent coffee houses," Ubert said. "We've been roasting coffee and coaching coffee shop owners for 23 years – as long as Lorraine has traveled the country playing her music. Working together seemed like a perfect fit."
Lorraine's is one of 15 independent coffee houses that have joined the Crimson Cup community within the past year. Owners learned everything they needed to open a coffee shop through the Ohio coffee roaster's coffee franchise alternative program.
"We offer all the benefits of a coffee franchise – and more – without any franchise fees or royalties," Ubert said. He noted that, unlike coffee shop franchises, Crimson Cup does not dictate the name, building layout, employee dress or other aspects of the business. Since 1991, Crimson Cup has helped establish hundreds of independent coffee houses in 28 states.
Lorraine's Coffee House and Music is open 6 a.m. to 7:30 p.m. Monday through Friday and 8 a.m. to 7:30 p.m. Saturday and Sunday. Live music acts take the stage from 7:00 to 9:00 p.m. on select Fridays and Saturdays. To learn more, visit lorrainescoffeehouse.com.
"I hope you will come to the house that Lorraine built," Jordan said. "Don't be surprised by who you might find here! I've made a lot of friends during my twenty-three years on the road."
About Crimson Cup Coffee & Tea
Since 1991, Crimson Cup Coffee & Tea has hand-roasted specialty coffee in Columbus, Ohio and taught independent business owners how to be successful through its coffee shop franchise alternative program. Sustainably sourced Crimson Cup coffee is available through a network of more than 350 independent coffee houses, grocers, college and universities, restaurants and food service operations across 28 states, as well as the company's own Crimson Cup Coffee House in the Columbus suburb of Clintonville. For more information, visit crimsoncup.com.